Bar and Bat Mitzvah Planning Checklist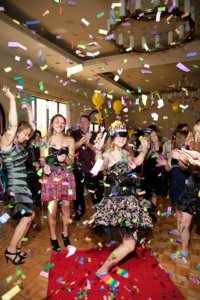 Your child's bar/bat mitzvah is a huge rite of passage, and planning the celebration can often be a big undertaking, as there are tons of details to consider to make it a wonderful moment for your whole family. If you're looking for a bar/bat mitzvah party venue near Philadelphia, your friends at Pinecrest Country Club will help you ensure that every detail is tended to so you can enjoy this momentous moment without worry.
Here's a quick checklist to help you get started and stay on track right up until the big day.
1. Prepare your guest list
Having a general idea of how many loved ones you expect to attend the party will help you ultimately decide on the size of the venue you'll need. From there, once you start receiving RSVPs, you'll be better equipped to know the size of your guest list and how to move forward. You'll want to keep this list updated as the event nears so you can update and customize the seating chart as you see fit.
2. Figure out your entertainment options
Many families choose to hire a band or a DJ for the event. Since many of your guests will be children/young adults around the same age of your child, you'll want to be cognizant of what will be played. If you're unsure as to where to start, your bar/bat mitzvah party venue near Philadelphia will be able to provide local options for you as well as vendors other families have used in the past for these celebrations. Also consider the option to have a photo booth, activities, or even special dances for the ceremony.
3. Establish your theme
Many families choose to designate a theme for their child's bar/bat mitzvah. This can include a color scheme, design, or décor. This is something to keep in mind as you're considering the food options, dessert, decorations, and even the invitations. Your child may have opinions or wishes for this, so it's recommended to consult with them while in the planning stages.
4. Have fun!
It's so super important to remember that this event is a celebration of a rite of passage for your child. It's a moment to reflect, appreciate, and celebrate! Ultimately, your bar/bat mitzvah party venue near Philadelphia will want you to be able to enjoy yourself. This isn't the first bar/bat mitzvah they've hosted, and it surely won't be the last. Make sure that you allow yourself the ability to enjoy yourself and let the venue do the work for you.
Contact PineCrest Country Club and speak to a special events coordinator to reserve your date today!