Eco-friendly Country Club Weddings: Saying "I Do" with Respect to Mother Nature
Posted on November 25, 2015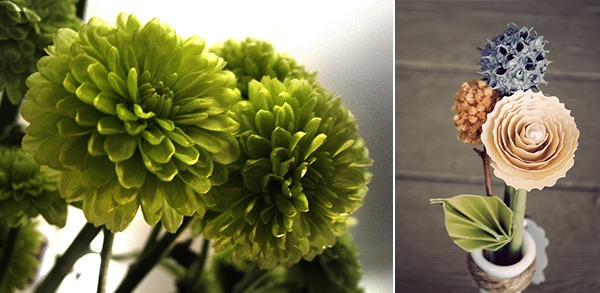 Weddings are all about making a splash. Which, isn't a bad thing when that splash takes on a different shade of green than what most of us associate with The Big Day. Here at PineCrest Country Club, we encourage brides and grooms to incorporate sustainable details into their big day—after all, we are home to a beautiful golf course that demands eco-conscious thinking and maintenance.
Sure going green on your wedding day sounds trendy. But think of the benefits to the environment. And, to your sense of activism and pride. Showing sensitivity to Mother Nature is not only admirable, it also helps you feel better about the unavoidable excess associated with wedding celebrations. Because let's face it, weddings can be big drains on the environment. Whether you're planning a country club wedding or hosting at a different type of venue, our tips for greening your wedding will leave you guilt-free and in some cases, with a little extra green in your pocket.
Here are a few ways you can say your "I Dos" without any green guilt:
Twist Up Tradition
Tradition is usually the name of the game for the weddings, but there are some unique spins couples can take to make their day eco-friendly and 2015-ready.
We've all gotten wedding invitation packages that come chock full of paper—invite, menu list, RSVP card and more—a lot of which likely gets tossed. So why not try going paperless? Companies like Paperless Post offer beautifully crafted e-vites, and others like RSVPify help you collect and track RSVPs—without all the wasted paper.
Another time-honored tradition that some couples are cutting out is the wedding registry—which often sends guests store to store to shop for mass-produced items that may end up sitting in closets. Instead, couples can opt for practicality and request donations to sites like Feather the Nest, where you can save for (green!) home improvements, or register at Green Bride Guide, which directs guests to eco-friendly gifts.
Location, Location, Location
The wedding location can be another important factor in making your wedding green.
While outdoor weddings pose the least threat to the environment, the approaching winter weather may cut out the backyard-wedding idea. For indoor weddings at venues like country clubs or hotels, look for energy-efficient lighting, leftover-food donation policies and water-conservation efforts.
While many indoor venues may offer multiple spaces for your event, having your ceremony, cocktail hour and reception all in one area can cut down on electricity and other environmental expenses.
Picking a venue that's centrally located—to cut down on guest travel—can also keep your green goals on track.
Going Green
Red and green will likely be everywhere at weddings in the next few weeks, but you can also put the other kind of green into your holiday wedding.
With most winter weddings indoors, couples may try to go overboard on flowers to spruce up the space. But, with only certain flowers in season at this time of year, florists may have to ship your favorite buds in, upping the impact on the environment.
Instead, think local and in-season. And go simple: Greens and garlands can liven up a centerpiece or ceremony aisle, without leaving a huge carbon footprint.
You can even skip out on the flowers and opt for stems made from recycled paper. Order them from companies like EcoFlower, which has a special holiday section, or, try your hand at a DIY bouquet or display.
With just a few simple choices, you can make sure your big day doesn't have a big impact on the environment.