How to Handle Rain on Your Wedding Day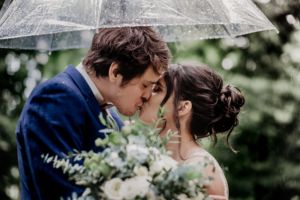 That famous song from the '90s may have given the world a mistaken idea of what irony is and whether it actually applies to rain on your wedding day but, vocabulary lesson aside, inclement weather hitting when you're ready to say your vows — especially for an outdoor ceremony — can be a wrench thrown in the gears. But the truth is that it's sometimes inevitable. That being said, are you preparing for rain on your wedding day? While you may not want it, it's better to come prepared than to be, well, left out in the rain.
1. Talk to your venue vendor
We know wedding planning. It's one of our specialties. That's why we know that any reputable vendor will already have a backup plan ready to go at the first sign of trouble. (We've been there countless times and our team of experts are pros at pivoting plans.) As as soon as you feel that the ceremony, reception, or both need to be reconfigured, let your planner know so they can discuss plan B and get the ball rolling.
2. Roll with it
It may not be the ideal situation, but don't let a little rain ruin your day! The most important part about your wedding is standing in front of your partner and exchanging your vows. If the rain is light, maybe you'll still want the ceremony outside. Just be prepared and make sure your guests all know so they can come prepared. If you think this is a possibility, make sure you have everything you might need ahead of time, like cute umbrellas that coordinate with your outfit and theme.
3. Plan for it from the start
Wedding-day rain isn't a bad thing for everyone. Maybe this is something you've hoped for all along, so you purposely planned your day during the rainy season. If so, go all out and make sure your guests (who may not be too keen on the idea, but still won't miss out on your big day) are as comfortable as can be. Start out by providing a canopy to at least cover the seated guests. Plus, you can provide stylish rain boots for them or cozy monogrammed blankets they can wrap around their shoulders … little touches that show them you care about their comfort.
Preparing for rain on your wedding day doesn't have to be a negative thing. In fact, it can be a fun experience, and the weather can actually help make your day a whole lot more memorable. No matter what, don't forget the most important part of your day: that person walking down the aisle with you.
Rain or shine, we're here to help you celebrate in style. Contact us today to learn more about our availability and options!