Marking a Milestone with a Winter Wonderland Theme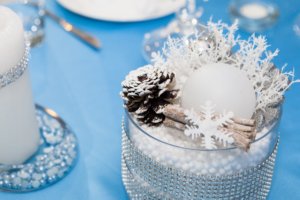 Whether it's an anniversary, milestone birthday, or retirement party, you can get incredibly creative with your party space near Bucks County, PA. Milestone gatherings are designed to honor a next life chapter, so get to brainstorming on how you can make this event not only special but totally memorable. If you're looking to incorporate a winter wonderland theme into your special gathering, there are a few clever ways to do this so that your guests can make the best of the blustery days.
Make it a white party
Nothing says winter like a fresh snowfall, so bring the weather inside. Not only will the all-white everything make your party space look sleek and pristine, but it'll be easy to coordinate the rest of the space so it feels like a winter wonderland. It will also be simple to gather your décor during this time of year since the winter holidays fall within the same timeframe. For an added aesthetic, you can also ask your guests to come dressed in all white to really elevate the gathering.
Make it cozy
When the weather is blustery outside, make your guests feel comfortable and cozy in your party space near Bucks County, PA. Serve hot cocoa and smores at the dessert table with tons of mood-setting candles, or recreate a fireplace setting complete with pillows and blankets so guests can relax and feel safe from the cold. All you need is a little creativity to make your indoor space totally unique.
New Chapter
The winter is a time for rebirth, to think about the next year and what's ahead. Milestones are the same thing, whether it's a step into a new decade, a nod to another year of marriage, or even the toast to retirement, so use this time to let your guests make their mark to honor this occasion.
Have your guests create their own snowflake and write their message of well-wishes to the guest of honor. Or use logs for the messages to be kept under a faux fire flame. It'll be a great keepsake and a wonderful nod to the next chapter from loved ones.
Contact PineCrest Country Club to learn how we can help you find the perfect party space near Bucks County to celebrate your winter wonderland party!