3 Unique Baby Shower Gift Ideas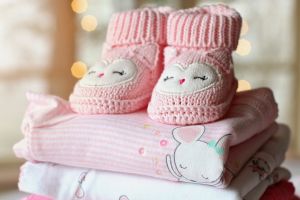 Baby shower gifts are almost too easy, right? Anytime you walk past a baby aisle in the store, something adorable catches your eye. Babies are incredible, moms are incredible, and celebrating both of these things is, well, incredible! People might say that a baby can never have enough onesies or enough diapers, but leave those gifts to the rookies. Unique or personalized baby shower gifts are always a hit. With a little creative thinking and a little online research, you can surely come up with some super fun ideas for the little peanut that are sure to stand out.
1. Not-your-average-gift Gifts
Sometimes the baby's gift is really a cute thing the baby can technically use that's really for the parents to cherish for years to come. That's always a gift that makes an impact. It should still be super useable though, like a onesie and hat combo. But what if the onesie and hat make the baby look like a carrot or a sweet pea? Or what about a swaddling blanket that makes Baby look like an actual burrito? Those are the kinds of things that make on-lookers swoon and make great photos. Toys are also a great way to get creative. Building blocks are a classic kids toy, and it's exactly this kind of get-back-to-basics kind of toy that people love. You can get blocks anywhere, but a few companies make blocks that are a little more inclusive. Try blocks that have the elements from the periodic table printed on them. What about blocks with the letters of the alphabet on one side and the sign language equivalent on another?
2. Personalized gifts
Personalized baby shower gifts can be a super thoughtful way to celebrate the baby. Books are always a safe bet. Many different companies will personalize storybooks with the baby's name and a few other details. This is also a good way to show support for the sibling who is about to have a new sibling for perhaps the first time. Books about what it's like to bring home a new baby are such a good way to help explain things to the older child, and also help validate his or her feelings about it. Showing up to the shower with a personalized present for the new big brother or sister will certainly make you a friend for life! Pillows, blankets, and framable posters also make great personalized baby shower gifts. Get a birth announcement printed so the parents have a keepsake. Zodiac sign onesies, shadow boxes, blankets, and books can be another perfect way to welcome the new baby into the world, too.
3. Post-partum gifts for mom
Having a baby can seem like perfection… except when it doesn't. Whether this is baby number one or baby number 6, Mom needs some pampering too. Thinking of her needs is one of the most thoughtful ways to say you care. Put together a gift basket of self-care items, such as healthy snacks she can quickly eat, chocolate, lip balm, a cozy blanket, soothing hand lotion, and maybe even a little body spray for those days when a shower is simply not going to be a thing. Put a little notecard in there somewhere too with your phone number to remind her you're just a phone call away!
A lot of work goes into caring for a baby. There will be tons of gifts opened that day, and while personalized baby shower gifts are fun and can carry deep sentiments, it's the gathering itself that can make the biggest impact. Raising kids is no easy task, and it truly does take a village. Showing your support just by showing up and participating in the celebration itself is priceless. At PineCrest Country club, you can choose among several indoor or outdoor rooms to host the happy occasion. From decorations to food, to music and everything in between, the professionals at PineCrest are excited to help you create a meaningful and memorable baby shower.