4 Alternatives to a Gender Reveal Party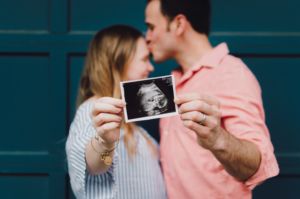 Gender reveal parties are so 15 years ago! What was once a hot trend is now considered outdated as more expecting parents shift their focus from glorifying gender to celebrating the child!
Below are four fun and creative ways to let the world know that your baby is on the way!
1. Pregnancy Reveal Party
Instead of celebrating the undue importance of the baby's gender, expecting parents can throw a surprise party like no other. Rather than the guest of honor being in for a surprise, the happy couple turns the table and surprises their family and friends with news of their pregnancy. How do you pull this off? Gather everyone together for a "just because" party and then deliver the big news by presenting a baby-shaped cake and other baby-themed treats for guests to enjoy after dinner.
2. Name Reveal Party
Here's another fun way to share baby news without putting undue importance on gender. How you choose to reveal your baby's name is up to you. Host a fun game to see if guests can guess the correct name. Present everyone with a small gift that when unwrapped reveals the baby's name. Or go old school and use a banner to unveil your baby's name.
3. Birthstone Reveal Party
Baby is sure to be the jewel of your family so celebrate the upcoming arrival with a gemstone reveal party! There are lots of fun things you can do with this reveal party. Encourage guests to wear outfits or accessories that showcase their own birthstones. Add birthstone-themed decorations and faux gemstone-topped cupcakes to the mix for extra touches of fun. Or bring your own ideas to the party as nothing is set in stone!
4. Chosen Family or Godparents Dinner Party
For a more intimate affair, invite your immediate family (or friends who are like family) out to an evening of dinner and drinks. Before everyone prepares to enjoy their meals, propose a toast (non-alcoholic beverages for mom-to-be please) and share the news of your pregnancy! This alternative to gender reveal parties is also a great way to ask your chosen family members or friends to be the baby's godparents.
When it's time to share your baby news with family and friends let us help you start a new tradition by hosting your alternative reveal party. From intimate dinner parties to large gatherings filled with fun games and activities, Pinecrest Country Club can make your reveal parties a reality. Schedule a tour with our event staff to see our many venue and menu options.