4 Themes for Your Halloween Baby Shower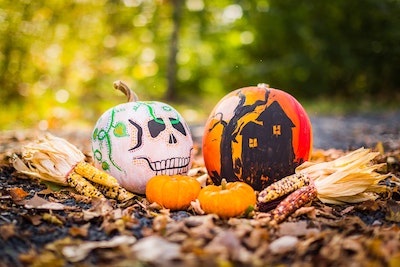 Baby showers should be fun for all. However, they should also reflect the personality of the expectant mother. If your friend is a fan of Halloween and all it entails, then she's not going to enjoy a traditional shower full of pastels. She's going to want something more befitting the spirit of the season.
Here are four festively fun Halloween-themed baby showers ideas for the mom who loves all things creepy (and cuddly).
1. A Little Pumpkin is Cropping Up
This theme is ideal for a mom who enjoys the more playful side of the season, is fanatic for fall, likes a rustic aesthetic or all of the above! Dress the setting in fall colors like orange, brown, green and yellow. Adorn the guest tables with pumpkin centerpieces (which can later be used in a craving contest). Serve up delicious pumpkin pie for dessert. Best of all, this theme works great indoors or outdoors!
2. Welcome a Wee Wizard
If mom is wild about a certain wizard character, then give her a more magical good time. Help her welcome her mini Harry or Hermione into the world with a wizard-themed baby shower. Toast the wizard-in-waiting with non-alcoholic "butterbeer". Set the scene with maroon and gold decorations. Play trivia with questions about the beloved books and movies. Name the guest tables after the various houses of the school of witchcraft and wizardry. And be sure to fill those candy dishes with lots of jelly beans!
3. Mummy to Be Party
Does mommy-to-be enjoy the old school spooky stuff? Then give her a mummy-to-be party! Invite all of the monster mash favorites to the party: Dracula, Frankenstein's Monster and his Bride, werewolves, and ghouls a-plenty. And don't forget the mummies! Set the scene with lots of hanging bats, spiders, cobwebs, black cats, and ghosts. Twisted party games can include "Guess How Many Eyeballs in the Jar", a Halloween-themed selfie challenge, and a mummy-wrapping contest!
4. Trick or Treat
You can't go wrong with a straight-up classic Halloween party theme! It'll be easier to lure the expectant mom to the event if she thinks she's attending a Halloween party (and even easier to convince her to wear a costume. Once she arrives, she and the other costumed guests can enjoy a traditional Halloween party complete with new spins of classic Halloween and baby shower games and activities. Guests can bob for pacifiers instead of apples, decorate baby blocks with Halloween themes, and play a round of "Don't Drop the Deviled Egg!"
If you're planning a Halloween-themed baby shower for a friend or relative, there's something that's even more important than picking the right theme: choosing the right venue. At PineCrest, we can accommodate baby shower parties that range from intimate affairs to large gatherings. Our experienced and skilled staff can help with everything from planning your special occasion to customizing your event menu. Contact us today to learn more about our available spaces and menu options for your Halloween-themed baby shower.