4 Unique Baby Shower Games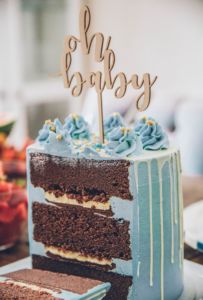 Now that we can all safely enjoy each other's company again, it's time for the return of in-person baby showers (because seriously, those virtual baby showers were just not the same)! Everyone wants their baby shower to be a memorable one filled with family, friends, food – and most importantly – fun games! But you don't want to settle for just any old baby shower party games. Only something new and fresh will do for the mother-to-be!
Stepping up your baby shower game is easy with these highly entertaining and unique baby shower games!
1. Don't Say Baby
Let's start with the toughest, most challenging baby shower game of all time: "Don't Say Baby"! Here's how this one works:
When each guest arrives, they'll be given five clothespins which they must attach to their attire. Once everyone has their clothespins attached, it's time for the game to begin. For the entire duration of the shower, all guests must refrain from saying the word "baby" in any context (ex. "baby shower", "baby wipes", even the phrase "baby carrots" is forbidden). Any time a guest says "baby", they will lose a clothespin. Whoever has the most clothespins at the end of the shower wins the game! This is a tough game as it's almost impossible to not say "baby" at a baby shower but that's part of the fun – especially when guests have to get super creative and use alternate words like "cutie", "kiddo", "little one" instead of baby.
2. Baby's First Picture
Ok, here's another tricky, clever and funny game for your party. Each guest receives a small piece of paper and a crayon or marker. Then they must take turns drawing a picture of what they think the new arrival (because you can't say "baby") will look like. Seems pretty simple, right? Well, it is unless the guests have to do it with their eyes closed. Oh, and they have to rest the paper on their foreheads while they draw. The guest of honor and her guests will crack up as everyone tries their best to make the little one's first picture the best one yet!
3. Who's Who
Here's a fun game that tests your party guests' powers of deduction. Guests will view a series of poster boards that are displayed around the party area. Each board features several photos of infants and each picture has a corresponding number next to it. Using a numbered form, the party player will have to guess which guest is the infant in the photo. Whoever gets the most correct answers wins a prize. This one takes a little bit of planning ahead of the shower as the guests will have to submit their photos in advance of the party so the organizers can create the poster boards and forms before the big event.
4. Bib Decorating
This game's perfectly fun and particularly practical, too! Using a variety of color markers or washable paints, guests are asked to turn blank bibs into customized pieces of art! This game lets family and friends show off their creative sides and share a bit of their personalities as they design one-of-a-kind keepsakes for baby (darn, just lost a clothespin) and parents.
These unique baby shower games and activities are guaranteed to bring lots of laughs and joy to your special event. If you're planning a baby shower for a family member or friend who's like family, why not make the day even more memorable by hosting it at Pinecrest Country Club. Our indoor and outdoor event spaces can easily accommodate baby showers both big and small. To learn more about our various venues or to schedule a tour, please contact us today!