5 Summer Baby Shower Themes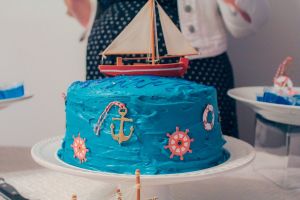 Are you getting ready to welcome home a new little bundle of joy, but struggling to come up with the perfect summer baby shower theme? You're in luck! Throwing parties is second nature for us here at PineCrest, and we're more than happy to lend our expertise to ensure your celebration is exactly what you're looking for. Here are just a few of the ideas we could make happen for your special day.
1. Baby-q
What could be more summer than a BBQ with all your closest friends and family? This takes one of those quintessential summer gatherings and puts a baby twist on it. Really run with the theme by serving up baby-back ribs and mini sliders and your party is bound to be a hit.
2. nautical
Summer and sailing go together like apple and cinnamon. Bring the sea to your party using your decor and food, and leave all that motion sickness — no need to add to your morning bouts — at the docks! Picture cookies shaped like life preservers and sailboats, and a show-stopping cake colored with deep navy and red.
3. Sharks
Sort of piggybacking on the previous suggestion, why not get more specific and celebrate sharks, the sea creature that (if Shark Week has taught us anything) is a favorite among just about everyone. Plus, let's face it, you're bound to be listening to "Baby Shark" on loop eventually, so you might as well get a jumpstart.
4. Fantasy
You're celebrating your future child, so why not embrace your inner child? Maybe it's dragons, or mermaids, or the ever-popular unicorn! Just imagine the reaction when, say, a unicorn cake topped with vibrant swirls of buttercream makes its way to your table. Or perhaps one shaped like a giant, scaly dragon's egg. The only limitation is your imagination when you embrace fantasy as your theme!
5. vacation paradise
You're not likely to be doing a whole lot of traveling while pregnant or in the months after giving birth, but you can still bring travel vibes to your party. Cruise the Mediterranean through a feast of inspired dishes, or jet set to the Caribbean with fruity finger foods and splashes of vibrant colors everywhere.
Whatever it is that you decide on, our expert staff is on-hand at our Montgomery County outdoor baby shower venue to make sure your party goes off without a hitch! Just let us know what your summer baby shower theme of choice is — or we can set up a brainstorming session to figure out something perfect! — and let's get your party planned!