How to Throw a Christmas Baby Shower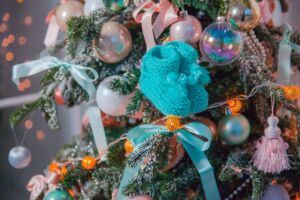 Expecting a newborn baby is very exciting. 
Yet, expecting a newborn baby during the holidays is even more thrilling!  
If your sibling, family member, best friend or coworker is expecting during the holiday season, then throwing a Christmas baby shower sounds like a fun plan!
 If you're in need of a little bit of party-planning inspiration, check out these fun Christmas baby shower ideas below! 
Christmas Baby Shower Invitation Idea
Christmas is all about giving gifts to the ones you love. And this year, your family or inner circle is going to receive a very special gift! 
When designing your Christmas baby shower invitations, use the theme "A Very Special Gift Is On The Way!" 
Then set the mood for the special event by creating a design that captures the spirit of the season – and the happy couple's special gift. An example of such an invitation would be a fireplace scene that showcases four stockings hanging from the mantle that spell out "B-A-B-Y". 
This design idea is subtle yet still packs plenty of Christmas time cheer! 
Christmas Baby Shower Decoration Ideas
Throwing a baby shower during the holiday season means having to bring your A-Game when it comes to the decorations! 
Instead of buying the typical disposable, store-bought baby shower decorations, why not get crafty? 
Gather some of your closet friends and family together to create your own decorations. From handmade wreaths to customized ornaments, you'll create an assortment of multi-purpose accessories. Not only will these creations decorate your event space, they can also serve as party favors for all of your guests!  
Christmas Baby Shower Gift Station Idea 
When it's time for the expectant mother to open her many baby shower gifts, place her in the perfect setting for unwrapping gifts: under the tree! 
Taking inspiration from the invitation idea above, you can install an imitation fireplace and mantle, trim a tree with ornaments, lights, tinsel and garland, and invite the mom-to-be to take a seat in a comfy rocking chair. 
Then retrieve the gifts the guests have placed under the tree and cheer on the  new mom and she unwraps all of the generous gifts for her and her baby! 
Host Your Christmas Baby Shower At PineCrest 
There are plenty of other great Christmas baby shower ideas besides the ones listed above. But we hope these will inspire you to create the perfect event! 
When you're planning your Christmas baby shower, why not make it even more special and memorable by hosting it at the beautiful PineCrest Country Club? 
In addition to our exquisite surroundings, our venue features multiple event spaces that are ideal for your Christmas baby shower. 
Each room has plenty of space to accommodate parties of any size. And our onsite team of event experts can work with you to create a custom menu for your event.
If hosting your Christmas baby shower at PineCrest sounds good to you, give us a call or send us an email today!