How to Throw a Baby Shower Tea Party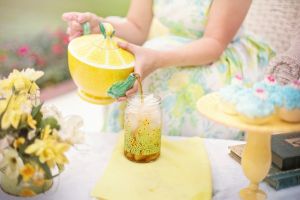 Picking a baby shower theme can be overwhelming. There are tons of adorable ideas out there that fit every budget and style. They range from super exclusive and themey to super laid back and casual. Most people are looking for something somewhere in the middle, where there's room for a little class and elegance, but the atmosphere isn't stuffy. A tea party baby shower perfectly fits that bill! Nothing quite says traditional elegance like a tea party, yet there is so much room here for creativity, style, and comfort, that everyone is sure to feel right at home. Here's how to throw the perfect tea party baby shower.
1. invitations
Every party starts with the invitations. This is your chance to set the stage and the expectations. If you want to go the literal route, design the invitations to look like an actual cup or pot of tea. Order from an online shop, or make them yourself. Without even reading the words, the guest will know a little bit about what to expect from the shower. Or if you'd rather, send simple invitation cards with the color or floral theme of the shower, and explain that it's a tea party inside. You'll also want to be sure to announce a dress code if there is one. A phrase such as, "Please wear your best tea party attire" or "Dress your best for summertime tea on the patio," will do the trick.
2. menu
This is one of the best parts of any party, am I right? You do not have to be a chef or know any caterers to put together an incredible (and impressive) spread for a tea party baby shower. What kinds of foods are most commonly associated with tea parties? Finger foods! The fun thing about finger foods is that they're small… like babies! Plan a "small plates" sort of thing, with delicate little sandwiches, cookies, bite-sized brownies, fruit salad, etc. Buy donut holes and mini scones, if you don't fancy yourself a baker. Breakfast, brunch, lunch, afternoon snack, the choice is yours! But don't forget about the tea! Choose specialty teas from a fancy boutique, or simply go to town in the tea aisle of your local grocery store.
3. decor
When you think of a tea party, do you think of your grandmother's old china, or do you think of the plastic tea set you had as a kid? Whatever your idea of the perfect tea party baby shower is, you can work perfectly when it comes to decor. If you're going the fancier route, use real plates and teacups and set the table with some lace, or your best tablecloth. Baby showers and tea parties generally assume a cheerful atmosphere, so decorating with flower arrangements is always a great choice. Faux flowers work just as well as real ones…. sometimes even better because you can bundle them in advance. Want something a little less… breakable? Picnicware can work well, too. There's nothing wrong with serving hot or cold tea in paper cups if that's what the atmosphere calls for.
There you have it! Hopefully, you're bursting with inspiration for the best tea party baby shower ever. Remember though, the most important part of any baby shower is making sure the mom-to-be feels supported and celebrated. Being a good host and treating the guests and the guests-of-honor to a loving get-together is what will make it truly memorable. Outdoor venues are perfect for tea parties, but if the weather is a stressor you'd rather not contend with, setting up a party indoors can be equally beautiful. At Pinecrest Country Club you'll find indoor and outdoor venues perfect for any baby shower, and the staff is ready to help you make everything perfect. Call us today for details!