Should You Have a Gender Reveal Party?
Posted on June 22, 2018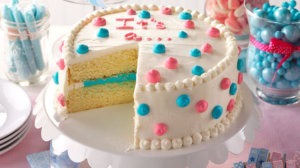 So, you have found out that a baby is on its way. Congratulations! Here marks the beginning of the million-dollar question – is it a boy or girl? The follow-up to that is should you have a gender reveal party? You can still search through baby shower locations in Montgomery County, but unlike a baby shower, a gender reveal party is not really a time for gifts for the baby. It's a time to celebrate the announcement of the baby's gender. Every day couples are coming up with more creative ways to shout "It's a boy!" or "It's a girl!" among family and friends. There are both pros and cons to this latest trend amongst expecting parents.
Baby Shower Party Prep
A huge plus to a gender reveal is it will greatly influence the party preparations for the actual baby shower. Decorating one of the baby shower locations in Montgomery County with cute gender specific sayings, balloons, and centerpieces makes your party that much more personal. Additionally, guests seem to really appreciate knowing the gender when it comes to buying gifts for the little one.
Nursery
After a gender reveal party, you will know how to fix-up the baby's nursery. Boy or girl will likely influence your design a little or a lot depending on how gender specific you would like the room.
What's in a Name
Post gender reveal, you can really start building your name list. You only have to focus on one gender so finding the perfect name for your bundle of joy becomes a more streamlined process.
Once you know, you know
If you decide to reveal the gender of your baby at a party or otherwise, you can't go back in time and not know. It's a one and done situation. So, if you are not one hundred percent sure that you want to know if your bump is a boy or girl, then you should consider refraining from the gender reveal party.
Another Party?
Nowadays it seems to be that we throw parties for everything. And, it begs the question, is a gender reveal party necessary when a baby shower will be right around the corner? It's extra expense, extra work, and extra obligation from your friends and family. Maybe save everyone time, energy, and money and skip this one. Besides, lots of kid birthdays are in your, and their, future.
The World's A Stage
In the age of social media, and what seems like little privacy, a gender reveal party also takes away the intimacy of you and your partner experiencing this good news between just the two of you. If you are someone who values sacred personal moments and doesn't necessarily love big crowds or audiences, then a gender reveal party may not be for you. You can always reveal the gender on social media in a clever way, after enjoying the news as a couple.
Whether your answer is yay or nay to the gender reveal par-tay, rest assured that one of the baby shower locations in Montgomery County will be waiting for you to celebrate the birth of your boy or girl. There really is no right or wrong way to do things. Do what is best for you, your partner, and your baby and you will be on track to a great beginning of this little one's life.