Six Themes For A Summer Baby Shower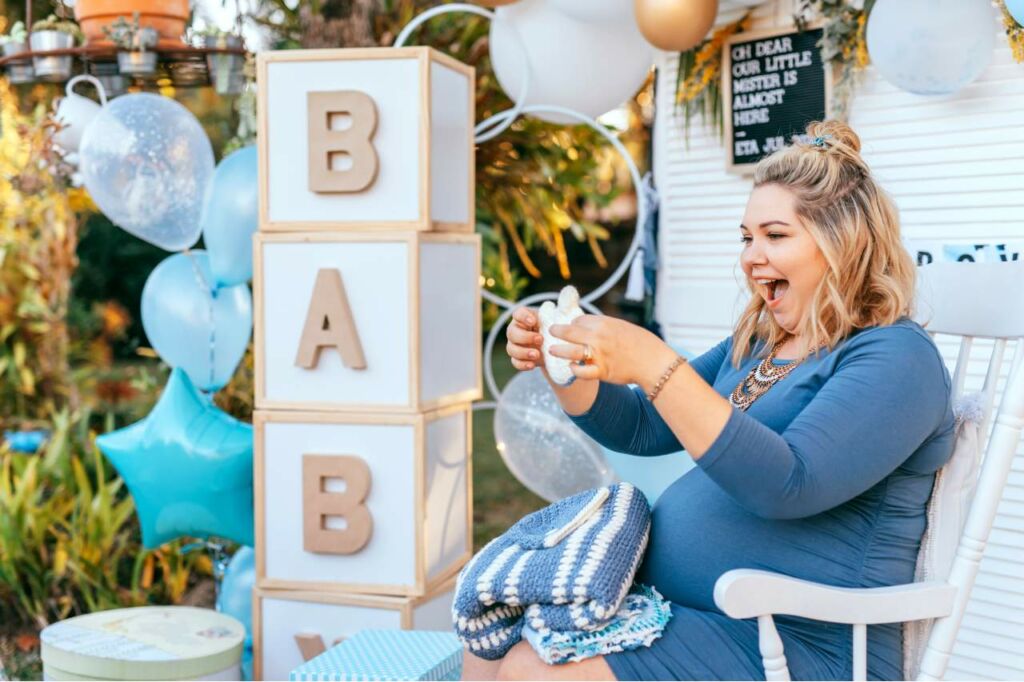 Are you planning a summer baby shower but you're stuck trying to find the perfect theme?
Don't worry! The event experts at PineCrest Country Club are here to help with six of the best summertime themes for your baby shower! 
Summer Baby Shower Theme #1: A Day at the Beach 
When you hear "summer" do you think of the beach? If you're from the Philadelphia area that's often the case. 
Summertime conjures up lots of great trips to the Jersey, Delaware or Maryland shores for many in our area. If the expecting mom among those folks, a beach-themed baby shower is perfect for her! 
Encourage guests to dress for a day at the beach. Decorate your outdoor space with boardwalk-style signs. Add a couple of baby pools and sandboxes to bring a bit of the beach to the party setting. 
Serve beach favorites like hot dogs, crinkle or fresh-cut fries, funnel cake and cotton candy. Or make it extra special and get a few bushels of freshly steamed crabs! 
Add starfish-shaped cookies to the dessert table along with a seashell-shaped cake. Pour large glasses of lemonade and soft drinks. 
Invite guests to lounge on beach chairs. Play party games inspired by boardwalk classics such as toss the ring on the baby bottle. Design custom "beach tags" that the guests can wear during the shower. 
Use these ideas or create your own to give the mom-to-be the best beach-themed baby shower! 
Summer Baby Shower Theme #2: Ice Cream Social 
Enjoying a delicious ice cream cone or a giant sundae is a great way to beat the summer heart! 
It's also the foundation for a great summertime baby shower theme! 
Decorate the venue with cone-shaped bunting and pastel-colored confetti that looks like sprinkles. 
Set up a fixing bar that's stocked with sprinkles, nuts, chocolate and strawberry syrups, candy, caramel and cherries. Then invite everyone to create their own special sundaes!
Put your spin on an ice cream social and you'll have a memorable summertime baby shower! 
Summer Baby Shower Theme #3: Summertime Cookout 
Backyard barbecues and cookouts are popular summer pastimes. They're a fun way to unwind with family and friends and enjoy the outdoors after a long winter. This summertime staple also provides the perfect theme for a baby shower! 
Set the scene by decorating the tables with classic red-and-white checkered tablecloths. Encourage guests to bring their lawn chairs to add to the authenticity. String lantern lights around the event space for an extra special touch. 
Cook up classic cookout cuisine like burgers, hot dogs, kabobs, corn on the cob and grilled veggies. Or step things up with BBQ ribs, brisket and roasts. Serve drinks in mason jars that your guests can take home with them. 
For fun and games, break out the cornhole boards, croquet mallets or badminton racquets to keep that backyard BBQ vibe going. 
This is a great idea if your guest of honor loves the low-key appeal of grillin' and chillin'! 
Summer Baby Shower Theme #4: Baseball 
Is the expecting couple wild about baseball? Then a baseball-themed baby shower is a grand slam choice!
Pennant flags, baseball-shaped banners and decorations in their favorite baseball team colors are ideal for setting the scene. 
In addition to ballpark fare like burgers and dogs, guests can snack on peanuts, popcorn and crackerjacks. Baseball-shaped cupcakes and a baseball diamond-shaped cake are ideal for dessert.  
After the expecting mother opens her gifts, guests can form teams for a quick game of baseball using a plastic jumbo bat and wiffle ball. 
At the end of the day, the mom-to-be will leave feeling like an MVP! 
Summer Baby Shower Theme #5: Tropical Island 
The expecting couple's vacation plans may be on hold this summer. but you can bring the tropical vacation to them with this baby shower idea.
Adorn your event venue with tiki decor to create the perfect island vibe. Serve fruity cocktails and coconut-based drinks  (both alcoholic and nonalcoholic) in tiki mugs with umbrellas to capture that island bar feeling. 
For dinner, guests can enjoy a mix of their favorite seafood dishes. And for dessert, a palm tree-shaped cake adds the finishing touch. 
Though they may not make it to the island this year, the happy expecting parents will appreciate your thoughtfulness and cherish this memory for years to come! 
Summer Baby Shower Theme #6: Golf  
If a day on the greens is how the expecting parents prefer to spend their free time, throw them a golf-themed baby shower! 
While a round of golf may not be in the cards for the expectant parents, you can put a golf-themed spin on classic baby shower games. Invite guests to guess how many gold tees are in a jar. Play a game of backyard golf using a children's toy golf set. 
Serve golf ball-shaped cupcakes or ice cream treats. After lunch, present the happy couple with a putting green-shaped cake. 
To capture the full golf course vibe, we recommend hosting your golf-themed baby shower at a country club like PineCrest! That saves time with decorating, too! 
These are just a few of the many fun themes you can choose for your summertime baby shower. 
If you have your theme picked and are looking for the perfect summer baby shower location, consider the indoor and outdoor spaces at PineCrest! 
Our team will help you determine which space best suits your needs and ensure that your baby shower is a rousing success. 
Contact us today to reserve space for your summer baby shower!