Outfit Your Bucks County PA Birthday Party Venue for Travel
Posted on May 23, 2017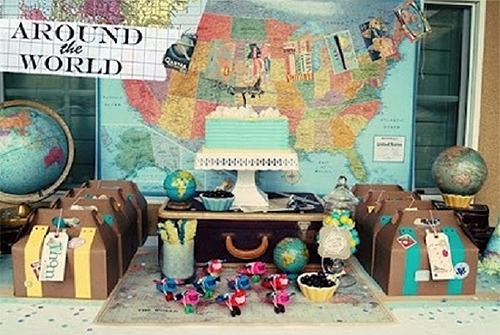 This year you can't make it to an exotic destination to celebrate another wonderful year, but that doesn't mean you can't showcase your love for travel at a Bucks County, PA, birthday party venue! Throwing a travel-themed birthday extravaganza is easy with a few DIYs and entertaining ideas. Here are some of the best ideas for a travel-themed birthday party.
AROUND THE GLOBE
One of the easiest things to incorporate into a travel-themed party is a globe! Whether it's a "real" globe or just a tiny replica, you can use these worldly pieces as decoration, favors, and more. You can use globes as a guest book, in centerpieces, or to hold place cards. In addition to incorporating globes into your décor, make use of maps. Maps are a little more versatile than globes and can be used for a variety of party DIYs. You can use map print in everything from your invites to favors to place settings and décor.
PACK A BAG
The true travel experience isn't complete without luggage. Not that you need to bring your ragged carry on and wow the crowd with your elite packing skills. Instead, incorporate vintage suitcases and travel accoutrement into your décor! If you're feeling crafty, make a DIY table out of an old suitcase to display your guest book or birthday cake. Additionally, there are lots of travel-themed party products available at reasonable prices – like these suitcase favor boxes.
SHOWCASE YOUR JOURNEY
Obviously, you like to travel, so show off where you've been! Everyone collects things from the places they visit and your Bucks County, PA, birthday party venue is the perfect place to showcase them. If your travel treasures are too precious to risk damaging, find replicas or other pieces that represent the places you've visited to use at your party. Make each table a different "location" and outfit it with things native to that place. Showcase your travel pictures in creative ways with some quick photo display ideas.
TRAVEL SUGGESTIONS
Get your guests in on the action with games and suggestions. Guests can play typical road trip games or you can create games that will test their knowledge on the world or your travels. For a guestbook, give guests an advice card to suggest a destination or trip for you! You'll come away with some wonderful ideas for your next adventure and a lifetime of memories.
Your Bucks County, PA, birthday party venue will feel like a world away once your travel-themed event is planned. Contact us today to find out about our party packages and more!