3 Unique Bridal Shower Decorations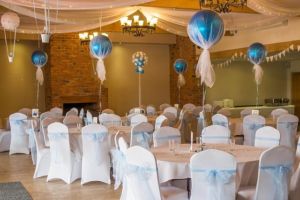 Planning the perfect bridal shower takes lots of creativity to make the day extra special for the bride-to-be. From finding the perfect date to sending the invitations to making sure no one spoils the surprise, there's a lot riding on the shoulders of the maid of honor and the bridal party. Last thing they need to worry about is picking out the wrong decorations.
Make your special occasion more memorable with these three fun and creative bridal shower decoration ideas!
1. Diamond-Shaped Tea Light Holders
The perfect lighting always sets the mood for any occasion – and bridal showers are no exception. While many string the traditional white lights throughout the room, it's time for you to do something bold and different. These diamond-shaped tea light holders add a luxurious glow to any bridal shower setting. Then at the end of the party, you can have a prize drawing to award these beautiful adornments to several lucky guests!
2. Dress Form
Here's a multi-purpose decoration that the bride can use after the wedding! Use a solid or wireframe dress form mannequin as the blank canvas for a bit of eye-catching bit of bridal shower decor. Dress it up with flowers and ribbons in the colors of the bridal party gowns. Affix an elegant costume necklace or strand of pearls and affix pictures of the bride and groom all over the form. When the shower is over, the bride can use the mannequin to display her wedding dress or gown. You can also use mini-dress forms to create complementary centerpieces for the guest tables of the gift stations.
3. Bride to Be Chair Covers
The highlight of any bridal shower is the moment the bride-to-be unwraps the many wonderful gifts her generous guests have presented to her. It's the moment when she's treated like royalty – so you can't expect her to feel relevantly regal in any old chair! A wedding dress-style cover turns any ordinary chair into the glamorous throne that's fit for the bride-to-be! There are many covers to choose from on various crafting sites and at store fronts that range from lovely lace to sequined sensations to delicate organza variants that regally reserves this chair for the guest of honor.
Now that you have three brilliant bridal shower decorations ideas, it's time to start thinking about the best place to host your fabulous event. Pinecrest Country Club is currently taking reservations for bridal showers in any of our serene indoor and outdoor settings. Our expert party planning staff can help you and the bridal party throw the best bridal shower ever complete with a customizable menu that's perfect for light lunches or coffee and desserts.
Call us today to schedule a tour of our bridal shower venue!