4 Elements for a Non-Traditional Bridal Shower
These days, many engaged couples already have their homes stocked with plenty of dishes, bedding, and general décor, so the need for traditional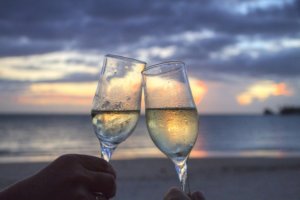 wedding registry gifts are unnecessary. If you find yourself in charge of throwing a bridal shower, you may want to consider a few alternatives to keep your guests (and the soon-to-be-married couple) entertained. Luckily, there are lots of non-traditional bridal shower ideas in PA that your venue can help with!
1. Focus on the honeymoon
No matter the destination for their honeymoon, you'll want the newlyweds to be able to enjoy every aspect of their vacation without worrying about monetary ability. Either encourage attendees to provide money, travel necessities, or even gift cards for available services. This way, you'll know for sure that the couple will be getting everything that they need and can use for their first vacation as a married couple.
2. A PRACTICAL activity
Let's get rid of those silly toilet paper wedding dress games once and for all, shall we? Incorporate something that all your guests will actually enjoy and can declare as a new skill. For another great non-traditional bridal shower idea in PA, contact a local cooking class or makeup studio to see their capabilities for remote instruction. They'll likely be happy to come right to your Lansdale bridal shower venue!
3. Make it co-ed
When you stop and think about it, there isn't a groom shower, right? So, why not include the men in your lives? Make it interesting by designing a Battle of the Sexes themed party to get everyone engaged with one another. Have guests bring couple-themed gifts, like theater tickets, a couple's massage, or even a cooking class. BONUS: Extra help loading the car with gifts post party!
4. Stock the bar (and the wedding!)
This one is a no-brainer among non-traditional bridal shower ideas in PA or anywhere else. Whether you supply the engaged couple with their favorite booze or introduce them to something new, you'll know these gifts will be of great use to them. Plus, they can always use their new collection for the wedding, which will help save them some extra cash! Your venue has plenty of space and staff ready and willing to make this non-traditional bridal shower a hit!
If you're looking for a great bridal shower venue in Lansdale, PA, contact us! We can't wait to host your special event!