5 Tips for The Maid of Honor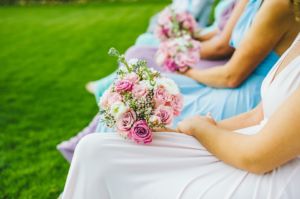 Uh oh. Your best friend getting married and she just asked you to take one of the biggest mantles there is? If you're left wondering what exactly you should and shouldn't be doing, we have a set of handy tips for a maid of honor, so you can help make sure your friend's big day goes off without a hitch.
1. Be there for the bride.
For better or for worse — and trust us, sometimes it can get dark — it is ultimately your sole responsibility to be there for your friend. It's her big day. She's probably been dreaming of it for years. And as she stresses about each and every minor detail (and hiccup), it's your job to help keep her level, listen to her when she needs it, talk her off a ledge if need be, and constantly reassure her that everything is going to be okay.
2. Be ready to work hard.
Because this is your bestie, meaning you should know her better than just about everyone else (even her betrothed), she's going to be depending on you for a lot. So when you take on this role, just know that it is likely going to serve as your second job. From helping with seating charts to ordering flowers to orchestrating the bachelorette getaway, a lot is going to be on your shoulders. It's going to be stressful, but just remind yourself: It will all be over soon, and in the end, you'll have helped make your friend's dream wedding happen.
3. Be prepared to speak up.
One of the biggest responsibilities of a maid of honor — the one that everyone will remember, anyway — is the inevitable post-ceremony speech. You know your friend the best, so decide what route you're going to take: gushing and nostalgic, a humorous mini roast, a combination of the two … Whatever it is, just don't wait until the last minute and, if you can, practice ahead of time. Your speech will mean even more to the bride if you can recite it without having to read word-for-word from a piece of paper.
4. Be thrifty in your regular life.
Weddings cost a lot. Not just for the married couple, but for the ones in the wedding party. There's a dress to buy, the bachelorette getaway, and seemingly countless smaller purchases during the planning stages (which will add up). So if you accept this role, remember this and start pinching your pennies elsewhere.
5. Don't lose yourself.
Yes, there is a lot to do when you're the maid of honor. But don't let this day fully monopolize your life. Sure, you want to do everything you can to make this day special for your friend. But at the end of the day, it's her day, not yours. The last thing you want is to harbor animosity toward your friend in the event that you go months without any semblance of a social life.
Just keep these tips for a maid of honor in mind as you go about the whole wedding-planning process, and you'll help to assure that you are a part of making your friend's fairy tale wedding come true… while simultaneously keeping yourself sane.
Are you looking for a Montgomery County, PA bridal shower location? Contact PineCrest Country Club online or call 215-855-4113 to speak to a special events coordinator and reserve a date today!