Fun and Fresh Bridal Party Gift Ideas
Wedding planning requires tons of creativity, and if you're looking for ways to make your special day unique and memorable at one of the many wedding locations near Bucks County, PA, consider these incredibly innovative and creative gifts for your bridal party. Not only will your extra thoughtful efforts be appreciated, but you'll feel great knowing that your notions came from the heart.
1. Anything personalized
Customizing each gift for every member of your bridal party shows that you've thought about each person individually.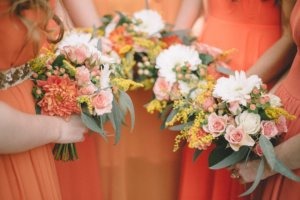 Think about something that they can use every day, like a phone case, journal, fun bag, or even, jewelry. And in today's digital age, who prints out pictures anymore? Go the extra mile and blow up one of your favorite bestie photos and have it framed. Not only will they appreciate the considerate and thoughtful sentiment, but they'll think of you and your friendship every time they look at it.
2. return the love
Most wedding locations near Bucks County, PA, will ensure that your special day is a direct reflection of your love, so return the love to your bridal party by showing it in their gifts. Shower THEM with novelties that express your love for them, like wall décor that shows off their fierceness in the world or things that acknowledge your friendship (think friendship bracelets from your youth, just for adults). They'll love the touch of empowerment.
3. Consider their efforts
Did your bridal party have to travel far for your special day? Perhaps they went above and beyond for the bridal shower or the bachelorette party. Give them a break from their efforts with a spa package or set them up with a hair blowout when they get home and things go back to normal. Or maybe get them a monthly subscription service so you can thank them over and over again with a gift that keeps giving (did someone say wine and cheese?!).
Wedding locations near Bucks County, PA, will take care of your special day so that you can then take care of your bridal party!  Visit PineCrest Country Club conveniently located near Bucks County, PA and see our beautiful indoor and outdoor spaces.