How to Host a Socially Distant Shower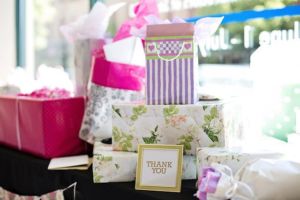 So, it looks like COVID-19 is going to stick around for a while. This has certainly put a damper on a lot of celebration opportunities. But life goes on, right? If you're trying to plan an event such as a bridal or baby shower, don't get discouraged. We've come up with a few solid pointers on how to have a socially distant bridal shower without sacrificing fun or style.
1. First things first: the guest list
Keep up-to-date on the state's guidelines for outdoor get-togethers as well as the capacity restrictions for indoor gatherings. Also, even though it's likely some people on the list will not be able or willing to attend, it's important to not invite more than the maximum number of allowed people (just in case). However, if the guest of honor has a particularly large circle of friends, consider inviting different friends for different time slots. Having a longer party, where attendees come in shifts, is a smart way to keep everyone safe. Another way to help make sure the party is well attended is to set up a virtual attendance option for those guests who are high-risk or simply not comfortable being physically present. Keep them in the loop by sending them photos, live streaming the event, or setting up a Zoom link where they can join portions of the celebration.
2. Set and communicate expectations
Effective communication is pretty much a good rule no matter what the situation, but for a group of party-goers in the middle of a pandemic, communication is absolutely essential. Start things off by making an announcement about the general safety plan, including mask use, food prep, bathroom precautions, and the like. Be sure to post reminders and set up hand sanitizing stations. Are the rules in the bathroom or the kitchen different than the main facility? Put a sign on the door reminding guests about masks, hand-washing, number of people allowed at a time, etc. Place a small table inside the bathroom with sanitizer wipes and instructions for keeping doorknobs clean, for example. If you point out these rules at the top of the hour and make sure to clearly post reminders, guests generally feel more at ease about what to do and also can party with confidence.
3. Practice food safety
You may now have a better idea how to have a socially distant bridal shower, but we still haven't addressed the matter of food. If you're providing the food yourself, consider ordering boxes or little containers online so that every guest can have their own portions without coming in contact with anyone else's. If you're doing a brunch, mini quiches work well, as do different fruits, muffins, and scones. If you're having it catered, or your venue provides food, select a sit-down food option where each guest receives their own plate. To avoid everyone having to touch pitchers or an ice scooper, keep bottles of water on ice, or designate a server during the party to pour drinks for everyone.
So, you now know how to have a socially distant bridal shower, but if you're still trying to figure out where to host it, consider a place such as PineCrest Country Club. There are several indoor and outdoor options available, where there is not only plenty of space, but the food and drinks are all taken care of for you. Located near King of Prussia and Plymouth Meeting, your bridal or baby shower is the perfect spot to celebrate with class, style, and most important: safety. We all have a responsibility to each other to practice safety when gathering, but "responsible" doesn't have to mean "boring." With a little planning, your bridal shower will not only be safe and beautiful, but memorable for all who attend.
If you need some help planning a shower for your friend or loved one, set up an appointment with the event planning experts at PineCrest today!