How to Throw a Sweet Ice Cream Social Bridal Shower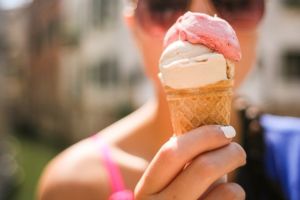 Want your summer bridal shower to be the cream of the crop? Then sweeten it up by throwing an ice cream social bridal shower!
What? You've never heard of an ice cream social bridal shower! Then let us give you the scoop on how you can host the hottest trend for summer bridal showers!
1. Delicious Decorations
If a bright and cheerful party is what you envisioned then you're going to love the many decorative ideas that an ice cream social-themed bridal shower whips up! Create a playful, party atmosphere with tables and walls adorned with ice cream cone-shaped bunting, treats and desserts served on old-fashioned ice cream cart-inspired trays and displays, and white tablecloths adorned with sprinkle-style confetti. Helpful hint: Use pastels to blend the ice cream theme with traditional bridal shower colors.
2. Festive Food
You can't have an ice cream social bridal shower without the treat that inspired the event! A great way to give all the guests a variety of ice cream flavors to enjoy (and avoid messes) is to serve small ice cream portions in tiny mason jars with lids. filling several metal party buckets with lots of ice helps display the jars and keeps the contents from melting. Say no to plastic utensils and go with small wooden spoons instead. Not only are they reusable, they also remind guests of the wooden utensils attached to the ice cream cups they enjoyed as kids.
Since this is a party, don't forget that even the ice cream needs to be appropriately addressed! Fixing bars stocked with the required flavored syrups, sprinkles, candy, caramel, nuts and cherries allow your party guests to build the perfect sundae.
Every wedding has a cake, so it's only fitting that your shower should showcase an ice cream cake. For an extra special touch, decorate the cake with warmest wishes for the bride-to-be.
3. Cool Party Favors
To reciprocate your guests' friendship and generosity, it's always nice to present them with a small gift. But what's the appropriate party favor for an ice cream social bridal shower? Small ice cream scoops engraved with the bridal shower date or a special message are not only fun, they're practical, too. If you prefer something a little more playful, ice cream cone-shaped earrings or pendants are just the thing. And if you want to keep the treats coming, you can't go wrong with small gift bags stuffed with gourmet ice cream-shaped frosted cookies.
If the idea of hosting an ice cream social-style bridal shower appeals to you – but you're not sure you can pull off such a big endeavor – have no fear! Our party planners at our Montgomery County bridal shower venue will work with you to make sure your event is a success so you can chill out and enjoy the day! For current availability or to schedule a tour, contact us today!