Must Haves for your Bridal Shower Registry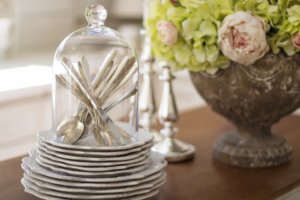 Your bridal shower, though it's a party thrown in your honor, can create a bit of anxiety. Your attendants are doing a wonderful job planning your bridal shower luncheon near Bucks County, PA, and you're sure you'll have an incredible time, but it's up to you to essentially tell the guests what to buy. For some brides, that can be an awkward and overwhelming task. After all, how are you supposed to know what you'll need?
First of all, you'll need to decide where you're going to register. Many brides choose to register at more than one place so that guests can choose where to shop. A trend that's growing in popularity is making one of those places an online marketplace such as Amazon. The choice is yours! Prices are another thing to consider. Everyone's budget is different, so you'll definitely want to be sure to include items that are less than $25, in addition to the bigger ticket items that are upwards of $100 or more. We at PineCrest Country Club know bridal showers like the backs of our hands. Below are some ideas to help get your domestic brain working.
1. Cooking Stuff
No way around it, meals are going to have to be cooked in your newlywed home. If neither one of you is all that brilliant in the kitchen, a bunch of expensive gadgets that take up cupboard and counter space are not going to turn you into chefs. If you're an expert, you probably don't need our help deciding what you need. If you're a beginner, it's best to stick to the basics – things you'll definitely use often. Do you like smoothies? A blender is super cliche but super versatile. Do you like to enjoy a morning cup of coffee (or a late-night one)? A coffee-maker or even something a little fancier such as a French press is definitely something someone will gift you. A good set of knives, a set of silverware, and a set of pots and pans are also good to put on the registry. As you're browsing this section of the store, you'll likely see other similar items you can't live without!
Baking is another story. Many mothers and grandmothers will say you should always have ingredients and tools at the ready in case you need to make a quick cake. Not everyone agrees, so use your best judgment before you go adding that 101-piece frosting decorating kit to your list. If you are into cake decorating, this is a great place to acquire that set you've been eyeing. But if not, it's best to stick with things you know you'll use. Cookie sheets, brownie pans, mixing spoons, an electric mixer, measuring cups/spoons, large and small mixing bowls, and cooling racks make great registry items, for example.
2. Entertaining Stuff
Whether or not you see yourselves hosting Thanksgiving dinner, it's useful to at least have what you need to host a decent party. A great place to start is with bar items. Things like a nice corkscrew, coasters, and an ice cream scoop are nice and fairly inexpensive. In addition to tall and short glassware, you'll want 8-12 glasses for beer as well as red and white wine. A cocktail shaker also comes in handy. A few different sized serving bowls and platters come in handy for a dinner party, as do salad tongs and bowls.
You'll be reminded at your bridal shower luncheon near Bucks County, PA that entertaining is more than just serving food and drinks, however. If can also mean games. Yard games are a huge hit for many age groups, for example, so go ahead and ask for popular bean bag games, lawn darts, and the like. Board games and other indoor party games are a great idea as well. Don't forget about the barbecue stuff! Skewers, grill accessories, and even the grill itself are common items for a registry.
3. Everyday Living Stuff
Getting married is definitely a good time to get some new sheets and towels. Whatever size bed you have, be sure to ask for a couple fitted and flat sheets, 4-6 pillowcases, and a mattress pad to protect the mattress. New pillows are excellent, as well. As far as the bathroom goes, use this opportunity to finally get some things that match! Not just towels and washcloths, but consider a wastebasket, soap and lotion dispensers, and that sort of thing. The living room space is just as important as the other rooms. There's no shame in asking for some decor, such as throw blankets, pillows, and lamps. If you'd prefer to pick out your own artwork and other decorative bits, however, go ahead and include a few bigger items on your registry, such as a vacuum cleaner or a TV.
You might be surprised how willing people are to help you furnish your newlywed home! The worst that can happen is that you don't get everything you ask for. Regardless of the gifts, you'll get to take to your new home, you'll have some great memories of your bridal shower luncheon near Bucks County, PA! Call PineCrest Country Club at 215-855-4113 to schedule a tour of our indoor and outdoor event spaces and book your bridal shower today!