Party Favors Your Guests Will Keep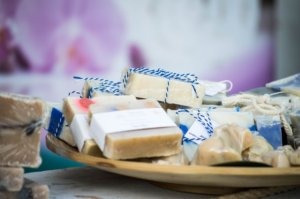 After a spectacularly wonderful time at a close friend's party — a formal occasion, not just a random get together — a good host or hostess will leave some sort of trinket for you and other guests to take home as a memento. But let's be honest, most times we find ourselves in a bit of quandary: The memento, sweet as the notion may be, is not usually something we need or particularly want to keep. But to just toss it is a bit … insensitive. So we hold onto these tchotchkes just in case.
But now, you've booked a stellar Montgomery County, PA, party venue and, while you're ready to dazzle your guests, you have just one final detail: choosing a party favor that people will actually want to keep. Here, some ideas to get the party favor-train moving.
1. Pressed flowers 
We don't just mean pressed and dried between a few pieces of paper. Go the extra nine yards and put these pressed flowers into chic frames that will make picture-perfect decor for your guests once they get back home. (You can even opt to use these as place settings.)
2. bespoke candles
Is there a fragrance that you can tie into the theme of your party? Something personal, intoxicating, and that you can't just find at any old store? Custom-scented candles not only show your guests that you really pulled out all the stops, but every time they light the wick at home, they'll instantly be transported back to your party.
3. confections
Admittedly, these aren't party favors that will be kept around forever. (Well, we hope not, anyway.) But who doesn't love a good sweet treat? It doesn't have to be over the top, but it should be memorable. Artisanal chocolate chip cookies with flaky sea salt? Light and crispy-shelled macarons? The world is your, er, cupcake.
4. infused olive oil
Almost all of us always have bottles of various cooking oils in our pantries, but we don't always shell out the money for flavor-infused olive oil. Whether you make your own — rosemary, garlic, chili … the options are endless — or buy it, a little bottle waiting for everyone is sure to please.
There are so many options when you stop to think outside the box. It's about mixing utility and practicality with a little bit of whimsy and desire. So when it comes time to set the stage at your Montgomery County, PA, party venue, you'll be set to wow your guests during and after the event.  Call 215-855-4113 or contact us online to schedule a tour of the many rooms and party spaces at PineCrest Country Club.