Style Ideas for a Vintage Themed Bridal Shower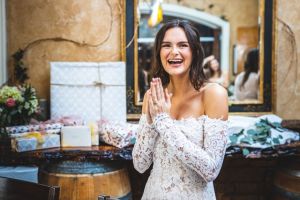 Vintage style is always a fun choice for a party theme, and even though technically "vintage chic" peaked a few years ago, it never really goes out of style. It's also a beautiful way to get the older generation in on the party planning. Take a walkthrough grandma's attic for inspiration, or take a trip to a few thrift shops for some unique decor ideas. A vintage-themed bridal shower is a perfect way to celebrate the past while preparing for your future. Here are a few ideas to help you plan the perfect event.
Decor
The great thing about vintage is that it's such a broad term that doesn't require specific items. Some things are very much 1970s, for example, like orange and pink color combinations, lava lamps, and disco balls. But the term, "vintage" implies a bygone era of simple, classic colors and textures, when a cup of coffee was a nickel and a stick of candy was a penny. Choose your decor with this mindset. Decorate with old photographs, or better yet, print new photographs in black and white. Use mason jars with tea lights for ambiance, present cakes on simple cake stands on the dessert table, and consider using wood and metal materials as decorative accents. Use neutral-colored clothes for the tables, such as painters drop clothes, then decorate with lengths of lacey materials as runners or jute of upholstery netting.
Invitations
The invitation is the best way to let the guest know what the tone will be for the bridal shower. Monograms were big back in the day, so consider big calligraphy-style initials in the background or somewhere at the top. Here is a good place to utilize floral designs. Hydrangeas are a beautiful choice to match the decor on tables, as are lace or lacey textures. Wrap the invitation in a paper doily or something similar to match the table runners and give the guests a sweet, romantic vintage vibe.
favors
Favors are such a fun way to give guests something to talk about even after the party is over. If you've decorated with mason jars or had guests use them as cups for punch, have a few of them monogrammed to match the invitations and send one home with each guest. Another great idea is matchboxes. No one really uses matches as they used to when so many people smoked cigarettes and fancy wooden pipes, but matchboxes aren't difficult to find even now. Personalize them by wrapping a neutral paper or fabric around them, or order some with monograms. If the thought of coming up with vintage favors is more than you want to deal with, then simply offer any modern favor but wrap them in a lacey bag or a cotton cloth bag instead of plastic or paper. Tie the bag up with some twine or a ribbon and voila! You've successfully concluded your vintage-themed bridal shower!
Paper or crocheted doilies, twine or yarn, or even an old paned window can set a proper vintage mood. Distressed painted wood, metal and glass jugs, and candles can make the perfect vintage statement. Pinecrest Country Club is currently taking reservations for our gorgeous indoor and outdoor rooms that will make the perfect backdrop for your vintage-themed bridal shower. They have a team of experts that will help you settle all the details you may not have thought of, while also helping you adhere to ever-changing health & safety guidelines. If this sounds like the perfect accompaniment to the vintage-themed bridal shower you imagine, call today to schedule a tour of our Lansdale, PA bridal shower venue!