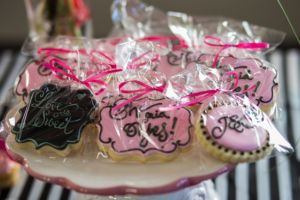 It's wedding season once again and with it comes a variety of showers. Bridal shower trends are forever changing but one theme remains the same: celebrating the bride to be! The typical bridal shower takes place between two months and two weeks before a wedding. It usually involves games, gifts, and delicious cake but anything is up for negotiation when it comes to catering to the bride and her personality. Each year, trends change just as they do with everything related to weddings and getting hitched. This year, here are some top bridal shower trends we expect to see at PineCrest.
1. Personalization
Of course, any bridal shower should be focused on the bride to be, but personalization is making a big comeback in event planning. Consider incorporating the bride's favorite foods, drinks, flowers, and even scents. This a day to celebrate everything that makes her who she is and that means whatever she likes goes!
2. Color
Color is back in a big way this year in bridal shower trends. Previous years have seen neutral tones reign supreme but this year bright colors are on the scene. No matter what time of year you're planning a bridal shower for, use bright colors to make everything about it shine. Looking to host a fall event? Go bold with oranges and golds. More focused on summer? Bright yellows and pinks could be a hit. Also, consider your venue and use its surroundings to your advantage. At PineCrest, we have beautiful grounds that really shine during the warmer months – perfect for an outdoor event with bright colors!
3. Experiences
The boring bridal showers of yesterday are out and experiential events are in! We're not talking bridal shower games, but planning an event that incorporates an experience into it is among the top bridal shower trends for this year. Think personal paint and sip or golf outing – something that gets people involved in an activity that isn't just sitting around ooo-ing and ahh-ing over the bride's new toaster oven.
4. Cocktails
Everybody loves a good cocktail – with or without alcohol! Bridal showers have been synonymous with mimosas but think outside the box and get creative with your cocktail offerings. Find a unique beverage to match your theme or the bride's personality. Is she very put together and chic? Maybe jazz up the traditional cosmo and give it a cute name. More of a down-to-earth gal? Mix up some hard lemonade and sweet tea for a boozy Arnold Palmer. The options are endless!
If you're looking for somewhere to plan an event incorporating the latest bridal shower trends, contact PineCrest Country Club! We love hosting bridal showers and all events wedding related!