3 Creative New Year's Party Ideas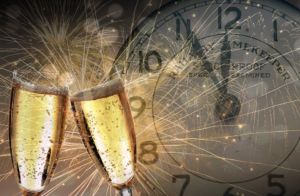 Can you believe it's already about that time of year to start planning year-end celebrations? That's right: we're fast approaching the day we bid 2019 adieu and welcome in the new year. What better way to do that than with a big ol' fete with your closest friends and family? Before you get started, make sure you book your Montgomery County event hall as soon as possible; on a night like this, the pickings will be fewer and farther between before you know it. Once you find a place, the real fun can begin: planning all the details.
Okay, we get it: This might not be fun for everyone so, for those of you who need a little help finding inspiration, we have a few ideas to help get you started.
1. Pick a theme
No pressure, but this is probably the most important decision of the whole party-planning process. You want to select something that people will remember. Since resolutions are supposed to kick in after this shindig, why not choose something that flies in the face of what so many people elect: dieting. A Midnight Feast theme can celebrate an abundance of decadence, offering a bounty of delicious foods. PineCrest's event coordinators can help you select an assortment of great hors d'oeuvre, main courses, and desserts. Just remember: More is more. Let everyone indulge to their heart's content before the health-fest begins the following day.
Not into the smorgasbord idea? A Glitz and Glam party would let everyone dress to the nines as they party the night away. Or choose your favorite decade and watch as guests in ridiculous costumes stroll through the door. For something a little more worldly, celebrate New Year's around the globe and introduce your guests to some of the annual traditions from other cultures.
No matter what you choose, just remember: It's New Year's Eve. The sky is the limit. Whether you go big or dial it back, stay committed to whatever theme you pick.
2. Shuffle up and deal
Okay, so you don't have to bust out a deck of cards to keep the party going. But introducing a game can be a great way to make sure people stay longer and are enjoying themselves. You could play Two Resolutions and a Lie: Every guest shares three would-be resolutions for the new year, but one of them is fake and it's up to guests to figure out which one. Or — sticking with the resolution theme — have all of your guests write down their actual resolution for 2020. Each one is read aloud (anonymously) and everyone tries to guess who it belongs to. If you really feel like going all out, you could even organize a scavenger hunt ahead of time and give everyone a list of objects to find around the hall.
At the end of the day, you know your circle of friends better than anyone. Pick a game you know they'll all enjoy and leave it as an option. But don't force anything; if people are having a great time eating, mingling, and dancing, you may not even need to introduce the game.
3. Two for one
Sometimes it can be hard to get people to commit, especially for New Year's Eve. Some people have a dozen other options and some people just prefer to stay home. What better way to seal the deal than to combine your party with another event, like a birthday or anniversary? You could even use this party as an excuse to throw a family reunion together. It might be a lot easier to get those RSVPs in if everyone has a little extra incentive.
Whatever it is you choose to do for your New Year's party, just be sure to make it yours. So get that Montgomery County event hall booked and start planning. It'll be here before you know it! Contact PineCrest online or give us a call at 215-855-4113!