3 Great Reasons to Throw a Cocktail Party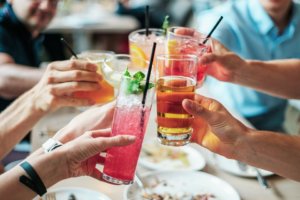 If there's always time for a cocktail, there must also always be time for a cocktail party, right? Of course! If you're one of those people who needs a "good reason" to throw a cocktail party, then look no further. So many of life's hills and valleys warrant a good celebration. From intimate little venues to grander locales, there's a cocktail party space in Montgomery County for every occasion.
Here are 3 great reasons to throw a cocktail party.
1. Big Life Event
Everyone loves to celebrate good fortune, so promotions or special achievements in someone's career are great reasons to put on your party hat. Has someone just purchased their first home? Tell them congratulations by throwing them a party! It shouldn't always be up to the new homeowners to throw their own party, right? Have your good friends just announced their engagement? They've got a lot of planning ahead of them, so what better way to mark this huge milestone than to plan a celebration in honor of friendship, love, and the future? Find out the guest(s) of honor's favorite drink or flavor combinations, and make up a fun, event-related name for it. It can really be as simple as that. Serve up some complimentary crudites and other finger foods, and you've got yourself a killer cocktail party.
2. BirthdaY
This one is a no-brainer. Whether it's your birthday, or someone special's, throwing a big birthday bash can seem like overkill when you get to a certain age. Some people prefer something more low key while still celebrating in style. Birthdays are a celebration of life and the people who are influential parts of your story. There aren't any rules though, so look for an intimate cocktail party space in Montgomery County that can accommodate a handful of close friends, or look for something grander. Serve only drinks, or treat your guests to some decadent desserts. It's your party, you can do what you want!
3. Breakup

The end of a relationship is not traditionally a cause for celebration, but we think it can be! Anytime something ends, something else is just beginning, and sometimes we need our friends around to remind us that we're going to not only be okay, but we're going to thrive. If your relationship was unhealthy, or if it had just naturally run its course, rev up your decorating engine and surround yourself with energizing love and support. A few drinks, a nice meal, and a lot of laughs are just what the doctor ordered.
The best part about a cocktail party is that it can be as casual or as fancy as you want it to be. If you're unsure what you want, find the perfect cocktail party space in Montgomery County and let them help with inspiration. Know exactly what you're looking for? Then start planning! These are the moments that help make life memorable.
Check out the numerous event spaces available at PineCrest Country Club and connect with a special events coordinator at 215-855-4113 and start discussing your specialty drinks menu today!