3 Outdoor Winter Party Themes You'll Want to Host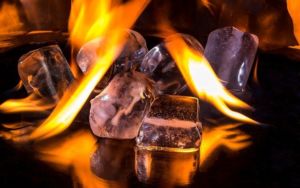 This year you might be planning your next celebration outside, even during the colder months! The COVID-19 pandemic has forced us all to rethink how we mark special occasions with everyone's safety in mind. Luckily, we've got some outdoor winter party themes to try out for your next socially distanced gathering. Even if you have to move the party outside, we've got options for you! With outdoor heating and places to warm up inside, your cold-weather soiree will be a hit at PineCrest Country Club. Now, get to planning with these fun themes.
1. Winter Wonderland
There's just something magical about the glisten of freshly fallen snow. Bring that same energy into your outdoor winter party theme by throwing a winter wonderland extravaganza in white. From decor to wardrobe to dessert, make it a point to incorporate as much white and sparkle as possible! White wine, white cake, white fish, white everything!
2. Fire and Ice
A classic winter party theme, this one combines the opposing elements of fire and ice for a beautiful event. In addition to portable heaters to provide true warmth, adorn your tablescapes with open flame (safely) for a stunning visual. Showcase an ice sculpture in the center of the venue space and decorate with icicle lighting. Use blues and reds to accent the dichotomy of the theme as well. Offer hot and cold cuisine including appetizers that play off the theme. And what event is complete without a couple of signature cocktails? Craft a concoction with Fireball whisky and another with a blue liquor or fizzy wine to tie into the theme.
3. Ski Chalet
Is hitting the slopes one of your passions during the winter? Why not theme a party after your favorite cold-weather activity! You don't have to be on the mountain to recreate the cozy, inviting atmosphere of a ski lodge. Use this outdoor winter party theme to transport your guests to the fanciest ski chalet you can dream up. Serve a menu of comforting food like a stew with a yummy DIY s'mores bar for dessert! Offer robust beers and wines and of course a little cider or spiked hot cocoa to go along. Think rustic and woodsy in your decor and don't forget to light up the fire if your venue has a fireplace. There may not be a lot of cuddling beside it, but there will be a lot of having fun at this unique outdoor winter party.
If you're looking for a place to host your winter gathering or are in search of more outdoor winter party themes, schedule a tour to see PineCrest event spaces. Reach out to an events coordinator online or give us a call at 215-855-4113 to book a day.