Kick-off Summer with a Cocktail Party!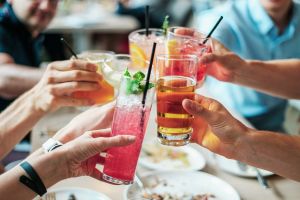 Spring is here, and with it comes the warm, inviting weather that begs us to spend as much time as possible outside, after so many of us spent frigid winter months hunkered down, avoiding the bitter outdoor frost. More importantly, it's a reminder that summer is just around the corner. What better way to usher in those weeks of gorgeous weather than with a gathering? Here, we're sharing some of our favorite summer cocktail party ideas, each a perfectly fitting way to enjoy some outdoor fun with your favorite people.
1. High Tea
Why not do something a little fancy and elegant? Invite your guests to break out their frilly frocks and gingham jackets for an afternoon of nibbling on tea sandwiches and crisp, cooling cocktails. Picture glasses full of cucumber-infused vodka or something light and fruity. It doesn't matter how hot it gets; you'll all be cool as a, well, cucumber.
2. Beach party
Can't make it to the beach this year? Bring the beach vibe to your summer gathering! We'll set up speakers (no boombox needed) for you to enjoy all those beachy, carefree songs as everyone mingles in casual board-shorts and caftans, all while munching on all those go-to beach picnic foods, like hearty sandwiches, hummus, fruit salad, and more!
3. Rustic bbq
Summer and grilling go hand-in-hand, so why not plan your get-together around this flavorful, hearty food? Now, barbecue can be inherently heavy, but our culinary experts can deliver all that meaty goodness to you and your guests in a light, elegant, finger-food style. (Or, if you want it down and dirty, we can do that, too!) Add to that perfectly paired drinks — did someone say beer-based cocktails? — and you have yourself a party.
4. Lemonade
What could be more refreshing than an ice-cold glass of lemonade on a hot day at the beach? Let's take that idea and just run with it, basing your entire party around this simple-yet-delicious drink? We'll craft an entire menu of lemon-forward cocktails to serve alongside tasty snacks that will pair perfectly with all of the drinks.
There are even more summer cocktail party ideas where these came from, and we're more than happy to help you pull off the event of the season at our Montgomery County cocktail party venue. Just give us a call and let's get to party planning!