Sophisticated Summer Party Ideas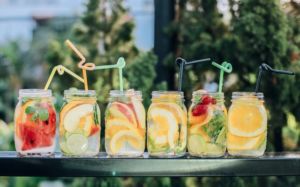 Summertime is here! And with its arrival comes plenty of opportunities to head outside and enjoy the sun and fun. Besides trips to the beach and dips in the pool, hosting an outdoor party for family and friends is tops on everyone's "things to do this summer" list. The only trouble with outdoor parties is that after you attend a few of them in a row, they start to seem the same. There are only so many grilled burgers and brats one can enjoy in one summer!
If you're planning on hosting an outdoor party but want to do something different and more memorable than the standard barbecue or pool party, we have some sophisticated summer party ideas for you!
1. Serve Finger Foods & Bite-Size Desserts

You can't have an outdoor party without feeding your guests. And you want your guests to mingle and enjoy themselves. That's often hard to do at an outdoor event when guests have to juggle drinks, utensils and plates full of food while they converse. Instead of dishing out burgers, dogs, corn on the cob and other messy hard-to-handle food on plates, consider serving a selection of finger foods and an array of bite-size desserts. That way your guests have more variety to choose from, they won't have to worry about holding plates, their portion size will be smaller, and there's less mess and waste. Added bonus, if there are any leftovers, guests can easily take a treat for the road!
2. Open a Lemonade Stand
The neighborhood lemonade stand is a staple of summertime that generates great memories for many. Just because you're an adult doesn't mean you and your guests can't enjoy this blast from the past! Add some extra creativity to your event by setting up an elegant lemonade stand where guests can fill their glasses with pitchers of thirst-quenching gourmet lemonade varieties – and a signature cocktail that makes the event even more special. Be sure to keep plenty of ice and garnishes on hand to keep those drinks cold and your guests appropriately refreshed.
3. Dress Up The Decor with Flowers

Instead of breaking out tacky tiki torches and decorating the surrounding with department store tchotchkes, give your guests a more memorable party experience by incorporating a bit of the outdoors in your decor. Adding fresh flowers to your serving tables, lemonade stand or anywhere that needs a splash of color will really set the scene for a good time. You can even dress up your desserts by adding edible flowers to pies and cakes.
4. End the Evening with a Gift
As the event winds down and guests begin to make their way back home, make sure to thank them for their friendship with a simple gift. Presenting guests with an appreciative party favor is the perfect way to punctuate your outdoor events. Gift-wrapped boxes of gourmet lemonade, cocktail mix, golf balls, or small picture frames are great choices.
These are just a few uncommon summer party ideas that will elevate your event to the next level.
If you're in the mood to throw an outdoor party this summer – but want to step outside of the confines of your backyard, we would be happy to host! PineCrest Country Club is available for all of your outdoor events this summer. Our venue has the space and scenery you and your guests need to feel comfortable and relaxed as you enjoy your summer social event. To schedule a tour of our outdoor party spaces in Montgomery County, please contact us today!