How to Plan a Corporate Golf Tournament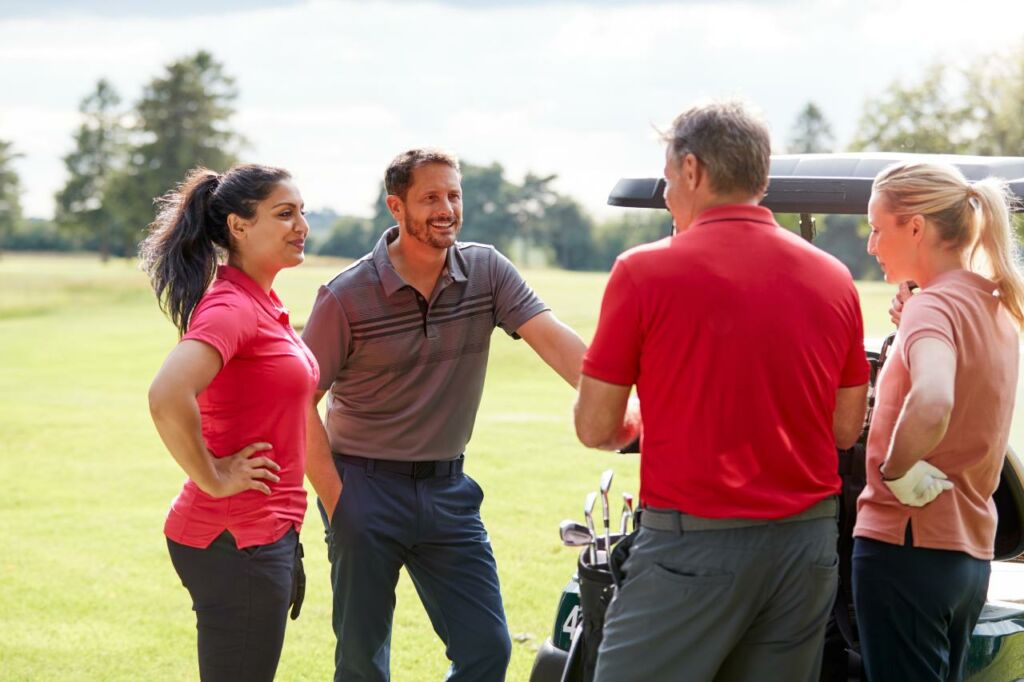 Company events are a great way to boost morale, strengthen teams, and show appreciation for your staff. They're especially from when they're held outside the office. But they're even better when they take place outdoors. Not only does everyone enjoy socializing outside the workplace, they also get to do it outside in the spring, summer or fall sunshine! 
One of the most popular company events is a corporate golf tournament!
Hosting a corporate golf tournament not only helps strengthen your internal operations, they also help your business build brand awareness and reputation, expand your professional network, and, most importantly,  raise money for a worthy cause. 
But how do you host a corporate tournament? It seems a bit more complicated than a typical corporate golf outing. 
Below, you'll find some helpful tips on how to plan your corporate golf tournament!
Planning a Corporate Golf Tournament Tip #1: Build The Foundation
As with any special event, you have to lay the foundation for success. This process includes picking a date, defining the scope of the event, finalizing a budget and determining the best location for the tournament. 
Plus, you'll have to determine how many folks are participating in the tournament. In addition to staff, you can also show your appreciation to important clients, vendors and community leaders by inviting them to participate in your corporate tournament. 
And of course, if this is a charity-based event, you'll need to select an organization that you'll be raising money for. 
Once you have the foundation established, it's time to move onto the next step. 
Planning a Corporate Golf Tournament Tip #2: Creating Teams 
You've determined the date, location, charity and participants. Now it's time to establish teams. 
To do so, you'll need to take a close look at your list and figure out which individuals should be on the same team. Each team should be a mix that includes one staff member, one existing or potential client, one community leader and one vendor. 
By making each team a mix, you give your staff a chance to mingle with vendors and new and potential clients to build better business relationships. And having a community leader in each team can lead to new in-roads for all involved. 
Plus, creating teams also allows you to more effectively determine the tee-off and finishing times. 
After teams are established, you'll select a tournament format next. 
Planning a Corporate Golf Tournament Tip #3: Choosing a Format
What type of golf tournament do you want to host? Laid back and fun? Competitive? Somewhere in between? 
The type of tournament you want to host often depends on the format you select. 
Some of the most common corporate golf tournament formats are:
The Scramble – A great format for both advanced and inexperienced golfers. Each team of four selects the best shot in each respective series of hits. Then the entire team takes their next shot from that specific location. Each team continues this pattern to the end of each hole.

Best Ball – This format is a good choice for more advanced teams and players, ELike a typical game, each team member plays their one ball for each hole. But, the lowest score among each team member counts as the team score at the end of each hole. 

Bingo-Bango-Bongo – This one is really popular with many corporate golf tournaments because it's a lot of fun for players and the audience. Players can receive rewards on each hole if they accomplish three things: 

The first team member to get their ball on the green receives 1 point

The team member closest to the pin receives 1 point

The first team member to hit the ball in the cup receives a 1 point
Best of all, all shots are taken in order of the players who are furthest from the pin.
Planning a Corporate Golf Tournament Tip #4: Getting the Crowd Involved 
Not all attendees are going to play (or even want to play). However, you can include them in the fun by offering other outlets for them to enjoy throughout the day. In addition to food and beverages, non-players can participate in raffles, team-building exercises, and great outdoor games like cornhole and croquet. 
Reserving a room for a staff lounge area is also a great idea. This allows folks a chance to get out of the sun, socialize and relax if they're not involved in the torment. 
We hope these tips help you when you're planning a golf tournament.
If you're not sure which format to choose or how to cover all your bases for a tournament, PineCrest Country Club is here to help you! 
Not only are we a great location for your tournament, our expert team can also lend guidance to help you plan your ultimate tournament event. 
Contact us today for more information!