Team Building Ideas for Corporate Events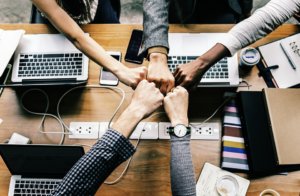 So you've finally gone ahead and booked that perfect corporate event space near Philadelphia, and you're ready to send out the mandatory invites to everyone at the office, but there's still one thing left to settle: What are you going to do at the event to make sure people take away something of value?
Historically, team-building events are tragic and predictable. Often times the feelings of dread the average employee experiences is palpable. It doesn't have to be that way! Most agree that team-building exercises are truly important for any group setting, but by veering away from the stale, boring activities — we're looking at you, chubby bunny — you can introduce something unexpected that people will actually enjoy.
Here, a few ideas that are sure to be a hit.
1. Squared Away
Think your staff can take an ordinary rope and lay it out to form a perfect square? How about with a blindfold on? For this one, a long piece of rope is tied together and everyone stands in a circle holding part of it. Then, each person has to put on blindfolds, place the rope on the floor, turn around, walk away, then make their way back. With the blindfolds still on, everyone must work together to find and then position the rope into as perfect a square as possible. This helps them learn the importance of effective communication and lets them build trust.
2. Winner/Loser
Don't let the name throw you; this one is about personal growth and reflection. Put everyone into groups of two. Person A shares a negative experience from their past — personal or professional — with Person B. After relaying this experience, Person A re-shares it, but this time changes the approach, turning it from an overly negative story into a positive one that teaches a lesson. (After this, roles are reversed and the same exercise is done.) This helps both people learn how to switch gears and focus on the silver lining in a situation. Plus, it helps colleagues get to know each other a little better.
3. Scavenger Hunt

This may require leaving your event space for a bit, but if time (and location) permits, it can be a lot of fun. Break your team into small groups and give them a list of things to find, then send them on their way. You can switch it up by sometimes asking for found objects and other times requiring that they do something (like finding a stranger to take a selfie with). Give everyone a time limit and, in the end, the team with the most "finds" wins. Assign groups yourself, so you can help assure people are working with those they don't normally work with.
4. Product Demo
One at a time, give a person one random object. Whether it's in smaller groups, or in front of the whole team, that person then has to then give a mini presentation on that object and its usefulness/intended purpose. Since everyone gets put on the spot, each colleague is in the same boat, testing their ability to think on their feet and grow their level of confidence in speaking in front of people.
These are four simple ways that you can encourage bonding between your crew. Best of all, they don't cost a thing, and each can be done in (or around) whatever corporate event space near Philadelphia you happen to settle on.
Learn more great tips for planning a corporate event and call 215-855-4113 to speak to a PineCrest event coordinator and reserve a time and space for your next team-building experience!