4 Creative Centerpieces for Your Graduation Party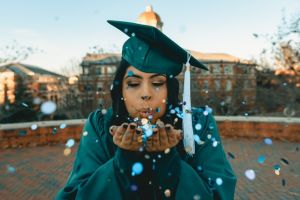 Time seems to be both flying by and standing still these days. For many students though, graduation day is the light at the end of a very long and winding tunnel. This academic year has been bizarre for many students, as they've tried to navigate various remote learning or hybrid education models and spending less time with friends. We're so proud of our graduates, and as we get into the warmer months and more and more people are gathering, graduation season couldn't have come at a better time! There are a lot of plans to make of course, and decor is one of the most important (and fun), which is why we've put together some graduation party centerpiece ideas to help get your brain in party mode.
1. Photos & Bottles
Photos are a super fun way to honor your grad by showcasing some of their best (and maybe most laughable) moments through the years. Consider creating a theme for each table, by only putting elementary-aged memories on one table, middle school-aged on another, high school on another, and if the party is for college graduation, then one table could include college years. Another fun idea is to focus on the grad's hobbies through the years. Dedicate one table to sports, one to concert band, one to family vacations, and that sort of thing. You can get as sentimental or embarrassing as you want! Displaying the photos is as easy as grabbing some eclectic bottles with corks from just about any dollar store. Some may be colored glass, some may be clear, but you can paint them, fill them with colored water, beads, or other crafty bits. Pop in the cork, stick in a paper clip, then clip to the photos. Have a single photo on each table, or cluster them for a collage effect. The possibilities truly are endless. Who knows… the grad may even like it so much they take a few with them out into the world.
2. Mason jars
Along similar lines as the bottles, mason jars are incredibly versatile. As far as graduation party centerpiece ideas go, the materials are super easy to find, too. You can get them in varying sizes, and you can buy boxes of them at a time (and there's always use for however many you don't end up using). Mason jars have a way of looking very rustic, but can easily be dressed up to add functional elegance if the occasion calls for it. Some acrylic paint swirled around on the inside or brushed onto the outside is a great way to integrate school colors into the decor. Cluster three or more on a round table, or space single jars out along the middle of a long table. Place paper straws into decorated jars, or even the guests' eating utensils. If you're going for a purely decorative centerpiece, paint a square of cardboard black, glue on a small tassel, and instantly the mason jar looks like it's wearing the ole mortarboard.
3. Flowers
Flowers, aside from being beautiful, are a great symbol of growth and transformation. They represent new beginnings, resilience, and of course the Spring season itself. If you aren't into symbolism, however, flowers can simply be an eye-catching way to pop color into the party room that may otherwise be pretty two-toned. Arrange them in traditional vases, or use planters. Planters can easily be painted, wrapped in decorative yarn or twine, or wrapped in LED lights for parties that might go past sundown. The best part is, the potted plants can then be given away to guests at the end or gifted to the grad to help decorate their next living space if they're moving away.
4. Pre-made centerpieces
If the DIY aspect of the graduation centerpiece ideas mentioned so far makes your fight or flight response kick in, take a few breaths and take comfort in the fact that there is nothing wrong with letting someone else do the work. Pre-made centerpieces can be incredibly fun, festive, and affordable. Balloons with weighted bases work well, as do the metallic foil sprays with the weighted base that party supply stores sell. If you are looking for a DIY feel, but don't have the time, check out a few Etsy shops or hire a creative friend or relative to whip up one of the above-mentioned centerpiece ideas.
Graduation is a time for celebration, congratulations, memories, and of course family and friends. Decorating the table doesn't have to be daunting, and neither does picking a venue. A place like PineCrest Country Club has indoor rooms and outdoor space available as well as experts on staff to help you figure out what you really need or want. If these graduation party centerpiece ideas have inspired you to start putting more serious thought into your graduate's party, call PineCrest Country Club today to schedule a tour!