Planning an Unforgettable Reunion with Ease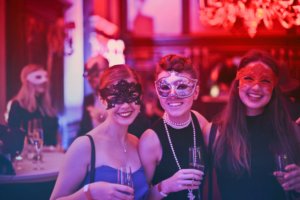 Reunions can create a sense of excitement – but they can also create a sense of dread. Oftentimes, reunions can be fairly drab and predictable. The cliche family reunion comes to mind, actually. Just a bunch of people you barely know, or have never met, telling you how much you've grown, or asking you when you're going to "settle down" or "start having kids" and that sort of thing. Can't you almost smell the floral perfume and the charcoal grill?
If you or someone you know is looking to plan a family reunion, high school or college reunion, or a we-haven't-hung-out-in-a-long-time reunion or any kind, remember that it IS possible to plan a cool reunion that people will talk about for years to come. Check out the area, pick a Montgomery County event venue, and put on your thinking cap. A little creativity and some advance planning can go a long way toward a memorable reunion.
1. Figure Out Who's Invited
This task will vary in difficulty depending on what kind of group you're trying to assemble. Family reunions can get tricky because you've got to draw the line somewhere, and family grudges are hard to shake. Any other kind of reunion can get massive very quickly also, as many potential attendees have spouses and children. Is this an adults-only party? These are the types of decisions to make.
2. Round Up a Reunion Committee
Obviously, if we're just talking about 5-10 people getting together for a few drinks and some laughs, a committee is not necessary. But if we're talking about an entire reunion class, or an extended Italian family plus all the spouses, children, grandchildren, and great-grandchildren, you're going to need a little help with the budget, planning, record keeping, etc.
3. Spread the Word
There are two ways to handle this: Pick a date and just hope for a sweet turnout or survey potential attendees to try to find a few dates that work for a lot of people. For larger groups, it's probably best to just pick a date. Smaller gatherings carry the most risk for low attendance, so it, therefore, makes sense to check with everyone first. Official invites typically can be sent 6-8 weeks before the actual event.
4. Budget Budget Budget
It's waaaaay too easy for spending to get out of hand, especially if you get excited about party planning. If you have a budget in place for each item, you can much more easily keep your zeal in check. Would everyone's face on a piece of chocolate be cool? DUH! But is it the best way to spend money? It all depends on what the budget is! A few things you'll want to be sure to factor in is food for everyone (make it a pot luck to save even more money in this area), decorations, photography, renting the Montgomery County event venue, and games/prizes.
5. Theme Me Up, Scotty!
A theme is not necessary, but if you can make it work, it can be truly spectacular. A theme creates interest among people, making it more likely they'll attend. A theme also jumpstarts your brain for planning things like decorations, food, and games. Family reunions lend themselves to themes about heritage, family history, relationships, and memories. School or event reunions can have special interest themes (like university majors or minors), sports, or other common threads that tie attendees together.
6. Activities
Some people might groan at the thought of games and stuff, but deep down they're excited. Some light-hearted activities quickly turn strangers into friends and turn friends into laughing balls of fun. It's probably best to cater to the guests a bit on this one. If everyone on the guest list is over age 70, a giant game of Twister is probably not wise. If no one is over age 70, a 2-hour game of family history BINGO is probably not wise. If prizes are to be included, consider a few non-effort ways for guests to win something, such as raffle drawings, funniest t-shirt contest, most miles traveled to get there, most grandchildren, that kind of thing. If you're feeling super organized, create a program (like at camp) that list all the activities and where/when guests can participate.
7. Keep in Touch
A post-reunion newsletter is a great way to both remind guests of all the fun and share photos and stories with those who couldn't make it. Funny quotes, stories that were told, memories, laughs, winners of the prizes and photos are a great way to keep in touch. Perhaps it'll even inspire someone else to hold another one soon.
Reunions are meant to strengthen a bond that is already there, even if the attendees don't know everyone at the party. Families, classes, sports leagues, you name it – something ties you all together, and that's worth celebrating. Life is short, and in our fast-paced lives, it's easy to take relationships for granted. Get out there and find a Montgomery County event venue soon, grab some friends, and start planning!
PineCrest Country Club has many party spaces to match your needs and guest list. Call 215-855-4113 and speak to an special events coordinator today!