3 Tips for Finding a Wedding Officiant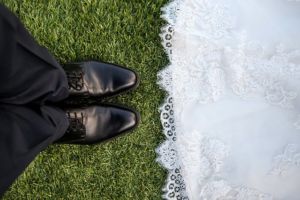 You've picked a date, said yes to the dress, and have your spouse-to-be, but who will make it official on your big day? How to find a wedding officiant is one of the top questions asked by those planning a wedding. If you're not affiliated with any specific church or simply don't want a religious ceremony, figuring out who should actually marry you can be a little confusing. Of course, the rules are different in each state but in Pennsylvania, your wedding must be officiated by an ordained minister, priest, rabbi, judge, justice of the peace, or mayor. Those ordained online unfortunately do not have the official authority to marry couples in this state. But just because ANYONE can't marry you doesn't mean you should have trouble finding someone to.
1. Religious or Non-Religious
First, you have to determine what type of ceremony you want. If you and your future spouse come from different backgrounds, you may need to have a frank discussion on what each of you truly want. Even if neither of you belongs to a congregation, but still want some sort of religious ceremony, your chosen wedding venue will likely have a few recommended officiants who are willing to officiate weddings for a small fee (that goes directly toward their congregation). If you'd prefer to have a non-religious ceremony, you can call on a judge, justice of the peace, or mayor for your nuptials in Pennsylvania.
2. Interview Potentials
The person marrying you is part of one of the biggest and most memorable days of your life. You want to make sure that they're not only good at their job (confident and well-spoken), but that their values and personality align with yours. Since they'll be helping you make a lifelong commitment, you want to make sure the fit feels right. Set a time to get to know your potential officiant and figure out what they're all about. If you have a vision about how you'd like the readings to go, make sure they're comfortable with that. Or, if you're unsure on what to say or have said at your wedding, get their input and make sure you like it. In this scenario, they're the professionals but that doesn't mean you have to like what they have to offer. Pick an officiant who makes you feel comfortable and seems to have it together. The last thing you need is additional stress on your wedding day! It might also help to review some things you officiant wants you to know before you meet with them!
3. Secure Your Date
The last step in how to find a wedding officiant is to secure your date! In fact, your date should be the first thing that comes up with any potential wedding officiant. Depending on the season, your ideal match might already be booked. It's better to ask about the date before you get to know someone instead of having your heart broken when they're already committed.
You'll always remember the person that married you, for better or for worse, so take the time to find the right match! Contact a special events coordinator at PineCrest to discuss your upcoming wedding ceremony or call us at 215-855-4113 to book a tour today.