3 Special Diets to Discuss with Your Event Venue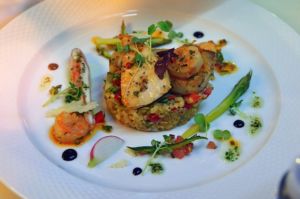 Special events require special attention to the menu. Aside from the standard decisions about whether you're opting for plated meals, food stations, or a buffet, discussing the menu details in full is essential to hosting a party that's not only enjoyable but also safe for your guests. Whether you've booked special events venue in Landsdale, PA, for a birthday, shower, wedding, or corporate event, here are a few key points to consider when faced with some common dietary restrictions.
1. Food Allergies
Food allergies range in severity, and catering to food allergies at the last minute, while possible, is tough and adds stress and sometimes cost. Do your research upfront and find out as much as you can before invites even get sent out, and definitely make sure that guests indicate on their response card of any food allergies or other dietary restrictions. Most event venues are willing to do what it takes to ensure everyone's safety. Peanut/tree nut allergies are very common and can be deadly. Consider having your entire event be nut-free if you have even one guest with a nut allergy. Gluten intolerance and Celiac disease is also very common and easily accommodated. Based on the dietary needs of your guests, you may want to consider food stations or separate buffet lines so that each food item's full ingredients list can be clearly visible. This allows people to make their own decisions about what they are able to eat. People often feel comfortable being able to see the ingredients for themselves.
2. Kosher
Kosher foods comply with the strict specifications of Jewish law. Generally, Kosher foods are seen as fit for eating and drinking based on the foods themselves as well as how they were prepared. When a guest requests a Kosher meal, it should be taken seriously, even though it's not a health issue. Religious beliefs have sacred connotations, and respecting that will make your guest(s) also feel respected. Unless the venue is religiously affiliated, these types of meals can be pricey to cater, so it's best to consult a professional caterer or special events venue in Lansdale, PA, if you have questions about Kosher meal planning.
3. Vegetarian/Vegan
Most venues are prepared to offer at least one vegetarian option and can do so fairly easily. Vegetarians are generally easy to accommodate, as the diet simply does not include meat. There are a few variations of the vegetarian diet, however, including the exclusion of eggs, dairy, or both. A vegan diet avoids all foods that are animal-derived, and are therefore a little more challenging to accommodate (but certainly not impossible). Proper planning can go a long way when providing meal options for vegetarian or vegan attendees. Usually, these types of diets are elective, but should still be taken seriously out of respect for your guest.
If guests feel reasonably accommodated and welcomed, they will have an enjoyable and memorable experience. The point of having a party of any kind is to gather with friends, family, or colleagues to share common ground and celebrate differences! Caterers expect questions and expect to have to make certain accommodations, so be sure to speak early, and often to your caterer or venue to find something that works for your guests and stays within your budget.
Consult PineCrest's special events coordinator and discover how we can meet your special dietary needs. Call us at 215-855-4113 or complete an inquiry online.
Download PineCrest's contemporary menus!