4 Instagram-Worthy Photo Booth Ideas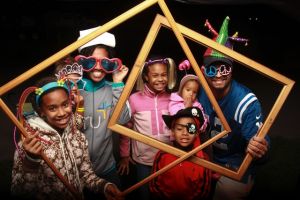 Are you looking for a way to bring some whimsy to your next big event? Something that will not only help capture the memories of a noteworthy day, but that will also give your guests a fun, creative outlet? Why not set up your very own photo booth? Ideas for these are aplenty, but here, we have some options that will work for anyone. (And yes, if you book your next event at PineCrest, we're more than happy to do all the heavy lifting getting one — or more! — of these set up for you and your guests.)
1. Floral
It doesn't need to be a spring celebration to appreciate the simple beauty that flowers bring to any photo-op. We can bring the garden inside for you and your guests to pose with. Have a certain flower you love? Or maybe you want to rock a color theme? No matter what it is you fancy, we have you covered.
2. masquerade
So maybe you don't want an entire evening of guests hiding their identities, but elaborate masks can make for some interesting, goofy, entertaining photos. We can pair them with other over-the-top props, like feather boas and costume jewelry, and the whole ordeal is taken to another level.
3. black & gold
Nothing exudes elegance like the combination of black and gold. There is just something about it that screams old Hollywood, a time rife with an approach to fashion that will never grow old. If you want to take it to another level, tell your guests to wear a vibrant color, like red, to really pop against the backdrop we set up.
4. Picture frames
Why wait until the photo is developed to put it in a frame? (Not to mention, photo booth shots are best displayed without one.) Instead, bring the frame into the picture itself. Give your guests a bunch of different frame options to choose from — you can use something fancy, silly, or just use a giant Instagram-style frame — that everyone in the shot holds up and poses with!
5. Balloons
Remember those ball pits we all loved as kids? There's no reason not to create the adult version … in balloon form. We'll pile on dozens and dozens of multicolored balloons for you to pose with, kick around, or "bury" each other under. You'll be realizing your grown-up kid fantasy in no time!
These are just a few of the photo booth ideas we can bring to your next gathering. Sound like fun? Just give us a call so we can learn a little more about you and what you're looking for, and we'll come up with something that is perfect for you.