2019 High-Tech Wedding Trends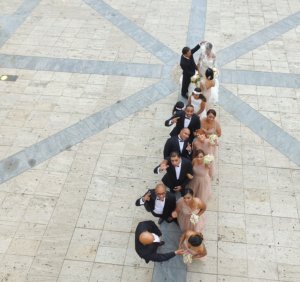 Your wedding day is all about perfect moments. But it's also about the memories. Often, this means getting the perfect pictures and keepsakes. Of course, you (or your mom) want the traditional posed pictures and a few great candids on the dance floor. But aerial shots, genuine faces, and capturing even the day's biggest goof-ups can be attained if you spring for a few extra details. If you've come here looking for the hottest wedding technology trends Philadelphia style, you've come to the right place.
1. Drones
Drones are super popular right now. They're not for everyone, but if you have particularly unique decor, or your venue is in a large, outdoor location or by the water, drones are the perfect way to get some truly spectacular video footage and stills. Many videographers and photographers include the use of a drone in their wedding packages, but not all of them have the technology. Also, not every place allows drones. Flying drones near airports is not generally allowed, neither is flying them near stadiums where there's an event taken place, national parks, etc. It's best to check with your venue before committing to drone use. If everything checks out though, those flower petals arranged in a heart around your guests' chairs, or your picturesque land- or seascape location will look stunning for years to come.
2. GoPro
If you're looking for something a little smaller scale, but equally as fun, you may want to consider getting your hands on a GoPro for your big day. There are countless ways to utilize this technology trend. Attach the GoPro to a special guest for a completely unique perspective. Getting footage of your wedding from the perspective of your dog or the ring bearer, for example, can not only be charming, but incredibly candid. Another great way to use this technology is by utilizing the time lapse feature. The rising or setting sun, for example, or the venue filing with guests, the bridesmaids or groomsmen getting ready – just set up the tripod and you're good to go! Have you and your betrothed gotten each other gifts? Secure the GoPro inside the box and get the most genuine reaction ever! Put one in the flowers, or use a suction cup to get footage from the car. If you can't think of great ways to incorporate this wedding technology trend, that's the fault of your own imagination.
3. selfie-stick
What's a wedding without a selfie-stick? Sometimes the best pictures are from the guests themselves. This has been a trend for a while now, but weddings continue to be the best place for this simple technology. Whether they use it with a GoPro or the guests use their own phones to capture their candids or group shots/video, you'll never be without amazing footage.
4. 3-D PRINTER
Looking for some wedding technology trends Philadelphia style that don't limit you to photos and video? Look no further than a 3-D printer. See if your cake baker can create a simple cake but add some not-so-simple printed shapes to truly personalize your centerpiece. Some companies can even produce super intricately shaped candies and wedding favors. You can even have someone make to-scale action figure versions of the two of you or your whole wedding party.
5. SOCIAL MEDIA
Never underestimate the power of social media. Some production and lighting companies offer interactive activities or live feeds of cool photos and videos. Just tell your guests to tweet or hashtag song requests, or set something up where if they use your wedding hashtag to post photos or videos, they can get your signature cocktail at the bar.
From DIY to big-budget weddings, the possibilities are endless when it comes to making your big day extra special. Whether you choose to utilize all of the hottest wedding technology trends Philadelphia has to offer, or just one, remember this: be safe and have fun! Discover some great tips about what to know before you book a photographer.
Learn more about PineCrest Country Club's wedding venue located in Montgomery County. Fly a drone over picturesque golf course views or take a stunning shot from The Deck surrounded by elegant white railings. Contact us online or call us at 215-855-4113 and speak to a special events coordinator.