3 Tips for Digital Wedding Invitation Etiquette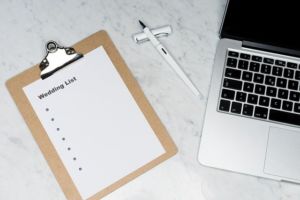 During the time of COVID-19, things have changed. From our daily lives to our celebrations, we're having to adapt to new ways of living to keep everyone safe. Online wedding invitations have become more popular in recent years to save on postage and make it easier to RSVP. During this pandemic, paperless wedding invitations can also reduce the risk of having to reprint in the case of a postponed or canceled event. Things related to COVID-19 are changing rapidly and many events have had to be rescheduled. As we discover new stages of the pandemic, events may have to be rescheduled or pushed back even further and online wedding invitations can help save money.
1. Instant Communication
We all know that information around COVID-19 changes frequently. That means that you need to be able to update your guests essentially in real-time. Online wedding invitations give you the ability to make changes on the fly without lead time for printing and mailing. Whether you need to reschedule your event, change the venue, or cancel part of your celebration, you can quickly and easily let your guests know.
2. Additional Information
The space on printed invitations is limited – even if you opt to include additional pieces in your full invite. When you use paperless invites, you have the option to include as much information as you need and because of the pandemic, it's likely you'll need to provide a lot more than you usually would. From social distancing protocol to mask requirements, guests may need to be briefed with a lot more than just suggested wedding attire.
3. Save on Postage
Regardless of what information you need to provide or change on the fly, online wedding invitations can save you a lot of money on postage. In a time when you might be out some deposits because of needing to reschedule, any savings counts. Wedding invitations generally cost more to send than regular letters because of their weight, so having to send them out – not even speaking of several rounds to inform of changes – can be costly.
Though it hasn't been the year we all hoped it would be, your wedding is still important. Easy communication is key during the pandemic and online wedding invitations can provide just that. If you're still looking for the perfect wedding venue for your event, let us know! We can't wait to make your wedding day dreams come true.
Contact a PineCrest event coordinator in Lansdale, PA. We are here to help you plan and execute the perfect wedding and memorable special events! Call 215-918-8409 today.