3 Questions to Ask Your LGBT Friendly Wedding Venue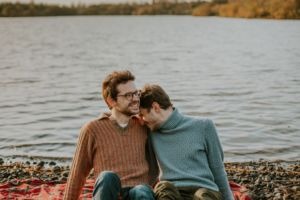 You're engaged! It's really happening! The excitement of this will likely last a while, but you can't wait for a level head to start making plans! The first big decision starts with looking for an LGBT-friendly wedding venue that will best suit your idea of perfection. When it comes to making that final decision, however, there are absolutely a few questions to ask before you sign your name and put down a deposit. It's best to find out now how accommodating – or not accommodating – a place is, so you can be sure you're creating the most welcoming and authentic environment possible for your big day.
1. Address the Elephant in the Room
Ask that burning question right off the bat. Say it flat out. "Have you ever hosted an LGBT wedding here before? How have they gone?" How they respond should help you get an idea of how enthusiastic the venue really is about hosting your dream wedding. What they say and how easily they say it should help you decide right then and there whether to even continue with the interview. Finding a place that truly supports your union is a huge win that will likely take some of the stress out of planning. Just because they turned up in a Google search for "LGBT-friendly wedding venues near me," doesn't mean they're the right choice for you and your partner.
2. Can the Ceremony and Reception be Held at the Same Venue?
This may not be a game-changer for you, but consider the convenience of not having to spend time or money transporting yourselves, the wedding party, or the guests to a second location – not to mention the beauty of not having to find two LGBT-friendly locations. If the reception and the party can both be in one place, find out what that might look like. Will there be a cocktail hour during the transition? Will both be in the same or separate rooms? Will there be extra fees for the ceremony?
3. What's the "Plan B?"
Sometimes things don't go as planned. If you're planning an outdoor wedding, for example, there surely needs to be a backup plan in case of inclement weather. Is there adequate shade outside? Is there a heated or air-conditioned retreat spot for guests? This question also needs to take photos into consideration. If you had a beautiful outdoor backdrop in mind, Mother Nature might have a different idea of what those photos should look like. Ask the venue to show you some places indoors that would make a beautiful "Plan B" backdrop for some stunning pictures.
4. Will Other Events be Taking Place Simultaneously?
This also might prompt the question of whether there's potential for interaction with another party. This may or may not be a concern of yours from a social standpoint, but safety is an issue, bathroom space is an issue, and noise might also be an issue. You don't want to arrive at what you thought would be your private wedding reception to find that one door over is a Bar/Bat Mitzvah with a dozen 13-year-olds running around.
These questions are by no means the only questions that you'll have, but hopefully this gets the gears turning. Planning your perfect wedding might be complicated but finding the right venue is a great place to start. PineCrest Country Club is an inclusive, LGBT-friendly venue with experience and heart that offers breathtaking indoor and outdoor wedding options. If this sounds like a good fit for your big day, call today to schedule a tour!