3 Romantic Places to Propose in the Philadelphia Suburbs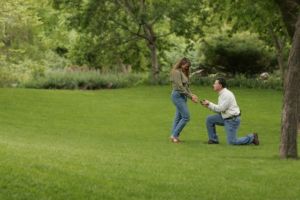 Current events are making planning a wedding quite a headache, with many couples having to postpone or reschedule their nuptials for the sake of safety. While the big day may have to wait, the proposal doesn't. With such a stressful year in the books, everyone could use a little bit of happy news, making this the perfect time to get planning. And with so many of us sticking close to home nowadays, you don't have to travel far for some picture-perfect marriage proposal ideas. Here are a few of the top places to pop the question in the Philly suburbs:
1. Merrymead Farm
This charming working farm in Lansdale, Montgomery County, is the ideal spot for a fall proposal. Treat your special someone to a stroll through its expansive Fall Harvest pumpkin patch, enjoy some homemade, hand-dipped ice cream and top it all off with a ring instead of a cherry! If you're looking for marriage proposal ideas with a backdrop featuring beautiful fall leaves and pumpkins, this is your spot.
2. Winery Tour
You don't have to go far to find a network of wineries and vineyards, with three wine trails in the countryside surrounding Philadelphia. If you and your sweetheart are into wine, schedule a tour of the area's best winemakers, where you can explore the vineyards, sample your favorite sips and end the day toasting to your new engagement.
3. Valley Forge
The rolling hills of this national historic park—dotted with all of fall's best colors—will make an eye-catching setting for your engagement. Before you ask the big question, head to the park solo to scope out the best spot and make sure to have a photographer hiding on hand on the big day. After all, the best marriage proposal ideas should be shared in keepsake photos!
Many couples want to dive right into wedding planning as soon as they get engaged, but the challenges of this year are slowing those plans down a bit. However, couples can still scout out their perfect wedding venue to find a reception location they're comfortable and confident in. At PineCrest, we're committed to helping our couples celebrate their big day safely, while still helping them bring their ideal wedding day to life. Our spacious indoor and outdoor event space near Philadelphia allows for ample social distancing and plenty of variety so couples can create their perfect event, however and whenever they feel comfortable doing so.
Call 215-855-4113 to speak to an event coordinator or contact PineCrest online to schedule a tour and book your wedding day!