3 Top Questions to Ask your DJ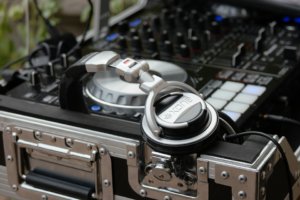 When booking your Lansdale party event space, there are plenty of things to consider. How many people it will accommodate, where the DJ or band can possibly set up, how many tables will fit, where the bar is, the dance floor, decorations, food, and much more. But the perfect venue doesn't guarantee the perfect party. Picking a DJ, for example, can seem like one of the easy jobs, but let us assure you, not all DJs are created equal. And trust us – we've seen plenty. The interview process can be awkward, but never be afraid to ask the tough questions. It's your party, and you owe it to yourself and your guests to have great music.
Here, you can find the top 3 questions to ask your DJ.
1. Is This Your Full-Time Business?
If someone can make a living being a DJ, that generally means they have a good reputation. Enough people hire them regularly that they can live off of the income. It might also mean that they've played your Landsdale party event space and are therefore familiar with that set-up. It also helps if the DJ is well-rounded, and can play a variety of different types of parties. A DJ is a performer in their own right, and someone with varied and extensive experience will be able to still do great work even for a tough crowd. If you're hiring a wedding DJ specifically, be sure that weddings are his or her primary focus.
2. How Do You Tailor the Music for Each Event?
A great DJ needs to be flexible and creative. Aunt Joann could probably handle hitting the play button on your favorite playlists, but it takes real skill to blend and transition tracks and match the music to whatever is going on at the time. No mixing or blending means silence between songs, which a lot of people don't want. Any real professional is also going to allow you to select a must-play and a don't-play list. These lists might also dictate how the DJ handles requests from the guests also.
3. How Do You Get the Crowd Up On Their Feet?
A true performer will be able to read a crowd, build up the energy, and then keep everyone dancing. If your party has a very mixed crowd, then the DJ needs to mix up the genres without alienating large groups of partygoers. They've got all sorts of tricks up their sleeves for encouraging guests to boogie, but when it comes to this type of thing, hearing them in action is the best way to decide if he or she is right for your party. Ask to hear a few music demos or wedding performances to see for yourself how they interact with guests.
No matter which Lansdale party event space you've chosen, filling it with music is key. You certainly don't have to select the first DJ you interview, even if that person seems perfect. If you don't have anything to compare it to, how will you really know? Consider asking each one, either as a lead or a concluding question, why they think you should choose them. They know you have a lot of choices, and any quality professional is going to know why their service is superior to the competition's. If you let them do the talking for a few minutes, you may find that several of your questions get answered, which will help you fill in the gaps at either end of the interview.
Check out some of PineCrest's preferred vendors and call us at 215-855-4113 to schedule a tour of our party event spaces!