3 Ways to Decorate Your Outdoor Wedding Venue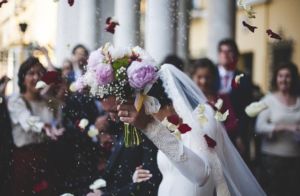 Some people have been able to picture every detail of their wedding since they were children. Some people don't think things like invitation design, centerpieces, and overall themes and decorations are important details to worry much about. Most people probably fall somewhere in between. When it comes to your outdoor wedding venue, how to create the perfect vibe should be fun, not stressful. PineCrest Country Club has two outdoor options that offer the perfect pallet for your party: The Veranda and The Deck. Whether you're hoping for a wedding venue with a covered outdoor patio or something a little more open to the elements, decorating possibilities are endless, no matter your budget.
1. Elegant/Romantic
Traditional elegance is always in style. If your vision for the big day includes a romantic atmosphere, the Deck might suit your needs perfectly. With 1,984 sq. ft (36′ x 62′) available, this space can seem spacious or cozy depending on the guest list. The elegant white railings and redwood style decking is warm, romantic, and inviting. Decorate with soft lighting at each table, flowers, and other traditional elements. The use of calligraphy on place cards and signs is an easy way to add sophisticated elegance to the party.
2. Casual/Garden Party
Perhaps you're looking for something a little more laid back. If so, the relaxed ambiance of the Veranda is an excellent choice. This wedding venue with a covered outdoor patio is at ground level and features views of the gorgeous golf course. It offers 4,860 sq. ft. (54′ x 90′) of space to offer you and your guests plenty of room. A garden party style wedding and reception could include a lot of natural elements like greenery and flowers but also draping fabric backdrops for DIY photo booth fun. Consider colorful bottles used as vases for the centerpieces and bright, cheerful lighting.
3. Rustic
A rustic wedding is another popular choice. Either of PineCrest's outdoor wedding venues could suit this theme perfectly. The simple, homey vibe of this kind of decorating style lends perfectly to an open deck or a covered outdoor patio. String lanterns, adorn each table with mason jars full of mismatched, natural textures such as stones, colored water, or even flowers. Tie bows with burlap sashes around each chair, use baby's breath as accents, and utilize organic colors and textures throughout the space to create a chic yet country feeling.
How you decorate your wedding and reception space is really what creates a memorable atmosphere. Whether you're set on a wedding venue with covered outdoor patio or something a little more open, you can establish the perfect ambiance for your special day. PineCrest Country club is excited to show you around so you can experience the Deck and Veranda spaces for yourself. Contact our Montgomery County outdoor wedding venue today to schedule a tour!