5 Classic First Dance Songs for Your Wedding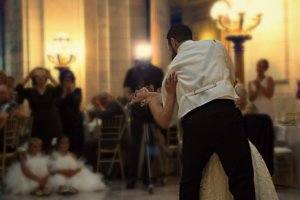 Of all the wedding day plans to make, some little things are bound to not go quite as planned. That's certainly not going to ruin a lifetime of bliss, but of course, you want to be sure to do everything you can to help things run smoothly at your Landsdale, PA, wedding venue. There are certain moments during a wedding or reception that you will always remember, though. These are the moments that bring your focus back to what really matters, regardless of what the weather is doing or how embarrassing Uncle Paul's speech was. That first dance as a married couple is one of those moments. You're officially married, and the party can officially begin. There are some wonderful, poignant modern songs from which to choose, but nothing quite marks the occasion like a classic. In no particular order, here are five classic first dance songs to help inspire you.
1. "As Time Goes By" – Dooley Wilson
Nothing spells "classic" like the film, Casablanca. This song paints a picture not only with the lyrics but also in the classic love story itself. Times sure have changed since "here's lookin' at you, Kid," but most of us still have room in our hearts for a good old-fashioned love story. You and your guests will have a hard time holding back the tears while you dance to lyrics such as, "And when two lovers woo/They still say, 'I love you.'/ On that you can rely/No matter what the future brings/As time goes by." After all, marriage is not about the wedding day. It's about keeping love alive as time goes by.
2. "At Last" – Etta James
This song was actually written by Mack Gordon and Harry Warren in 1941, and hit the number 2 spot on US Billboard pop music chart in 1942 thanks to Glenn Miller. However, most of us know it as the song that put Etta James on the map in 1960. Her R&B stylings pack a soulful punch that's difficult to recover from quickly. "And here we are in heaven/for you are mine/at last." Celine Dion and Beyonce have also covered this song, but no one can quite match the depth that Etta James can reach into the heart, which makes it the perfect version to choose for your first dance.
3. "Can't Help Falling in Love" – Elvis Presley
While Elvis is synonymous with screaming fans and general frenzy, "Can't Help Falling in Love" is anything but chaotic. This is one of those songs that you can't help but love. His smooth vocals ebb and flow with the lyrics, "like a river flows surely to the sea/darling so it goes/some things are meant to be." It's instantly recognizable by anyone over the age of 30, so if that demographic makes up at a significant percentage of your guest list, your Lansdale, PA, wedding venue is going to need a lot of tissues.
4. "Come Rain or Come Shine" – Ray Charles
Ray Charles. Need we say more? Smooth romance, soulful lyrics, and bluesy tones make this song perfect to set the mood for the remainder of your reception. "I'm gonna love you, like nobody's loved you/come rain or come shine." It's simple, it's beautiful, it simply states that you're the one for me, and nothing can dampen that truth. Sure, lots of songs have that message, but no one can say it quite like Ray Charles.
5. "As" – Stevie Wonder
Okay, let's talk about these lyrics for a minute. "As around the sun the earth knows she's revolving/and the rosebuds know to bloom in early May/just as hate knows love's the cure/you can rest your mind assure/that I'll be loving you always." Come on! There are several interpretations of this song's lyrics, but everyone seems to agree that it's about profound love and dedication.
No matter which song you choose, remember to be present in that moment. This is the beginning of something greater than yourselves. You'll forget a lot about the day, details about how the Lansdale, PA, wedding venue was decorated, and who all was there. But you probably won't ever forget that first dance. From all of us, Cheers!
Contact PineCrest Country Club at 215-855-4113 to schedule a tour of our indoor and outdoor event spaces and book your wedding reception today!