4 Tips for Writing the Best Bridesmaid or Groomsman Speech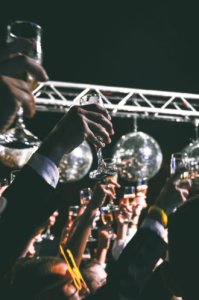 Being a bridesmaid or groomsman at someone's wedding isn't just a great excuse to get dressed up and knock back a few at an elegant wedding venue near Bucks County. With such honor comes great responsibility. Therefore, if you need to prepare a speech, get ready to accept your moment with the microphone. Oh, you're not a lover of the spotlight? Not a gifted writer or speaker? You're not alone. Here is a little friendly advice on how to write the perfect speech.
1. Embrace the Responsibility
Treating someone to a wedding speech takes a certain level of maturity and grace. People who say, "I'll just take 6 shots and wing it! It'll be great!" are bound to end up speaking carelessly and inappropriately because they're making the moment about their own comfort. Can you make the speech sappy and super serious? Sure. Can you make it super funny? Sure. The most important first step is to take this seriously and put some honest thought into it.
2. Stay Organized
Speech writing does come with a set of organizational rules, but wedding speeches can be whatever you want. If you're looking for some guidance in this department, consider the following flow: Thank the couple (and maybe the parents), remark about the beautiful wedding venue near Bucks County, insert a fun memory or joke that most people can relate to, offer words of encouragement or advice for a happy future, then say some concluding words.
3. Longer Isn't Always Better
Long, rambling orations are generally boring to listen to. Great wedding speeches can be as short as just a few lines long, even. Take comfort in that fact while you're conjuring relatable memories and touching moments.
4. Don't Wait Until the Last Minute
Sure, some people work best under pressure, but most people require a little more than a night to prepare. If you feel good about your speech, have made a few rounds of revisions and practiced it a few times in front of people, you're less likely to get that under-prepared, panicky feeling.
5. Be Yourself
If you're known for your zany commentary, play that up! If you're more of a poetic type, work with that instead. You're not in competition with anyone else who may be giving a speech, so just speak from the heart in whatever language your heart speaks, and you'll surely stir up all the feels.
What's most important is remembering that this is a big day for the bride and groom, and they chose you for a reason. They're asking for your support not just on this memorable day, but also throughout their marriage. You'll be celebrating at an incredible wedding venue near Bucks County with some of your best friends. Opportunities to truly express yourself to them in this way don't come along every day. Best of luck! Cheers!
Call 215-855-4113 and speak to a special events coordinator to learn more about PineCrest Country Club's wedding venue and event spaces for rehearsal dinners and bridal showers. We are here to help you with your specific needs.