5 Ways to Keep Wedding Costs In Check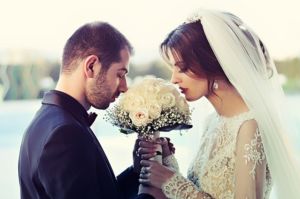 Weddings are truly exciting and momentous occasions. But let's be frank: The whole process of planning for the big day can be, well, on the overwhelming side, to say the least. We know you want that day to come together flawlessly, and that you want to have as lavish a celebration as you've dreamed of (while still having plenty left over to book the most picture-perfect honeymoon). So we came up with a few tips — from the invitations to the wedding reception venue — to help keep those costs down.
1. Go paperless
We know: There is just something about the elegance of a classic, tangible wedding invitation on that sturdy card stock that you don't want to pass on. But this is the digital age, so why not kick things off with a modern flair and send electronic invites? If you're not ready to veer that far from tradition, you could always look into creating and printing your own for a fraction of the cost.
2. Curb that guest list
Do you really need to invite that second cousin twice removed that you haven't seen since the late 90s? Sometimes less really is more. Consider having a more intimate wedding, rather than inviting an abundance of people out of obligation. Not only does it keep expenses at bay, but it's also a truly memorable experience when it's just the people that matter the most to you.
3. Skip the wedding favor
Hear us out on this one. We're not saying to skip it entirely, but instead of giving each guest a little trinket to take home, consider making a charitable donation on behalf of them all. You'll save on the cost of the trinkets (which, let's be honest, most people won't save for long), plus there's a chance you could even write that donation off on your taxes.
4. Book an all-in-one
At PineCrest Country Club, we have a team of trained professionals that can take the stress of planning the elegant wedding of your dreams off your hands, so you can focus on the finer details like finding that show stopping dress you've always imagined yourself wearing when walking down the aisle. Having us manage all the heavy lifting not only saves you time (and stress), but it helps keeps costs down, and we have plenty of packages to choose from. Download our wedding packages and take a look.
5. Choose an alternative day of the week
Saturdays are essentially "prime time" for weddings. High demand means higher prices. Our Value Dates wedding package helps make your dollar go the furthest (without sacrificing the style and beauty you've always dreamed of) by booking an alternative day of the week. At a can't-be-beat price point, you'll be able to treat your guests to a stunning ceremony and impeccably decorated reception they won't soon forget. You'll be the talk of the town and guests will enjoy 4 hours of open bar, a champagne toast, butlered hors d'oeuvres service, fruit and cheese display, and a three-course dinner.
Download our contemporary menus!
We'd love to host you and yours for this momentous occasion. As your wedding and reception venue of choice, we look forward to being a part of creating so many special memories. Call our special events coordinator at 215-855-4113 or reach out to us online to schedule a tour.