Alternatives to Traditional Wedding Dress Shopping
Posted on June 15, 2018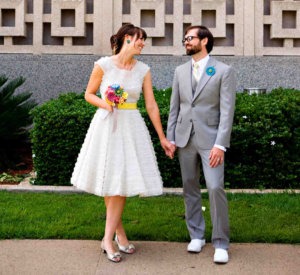 The ring is on your finger and you are ready to find the perfect wedding day look to match your personality and style. The good news is today's bride has thrown out many of the rules that brides of days gone by have followed. There are as many choices in dresses to go with the many wedding venues near Bucks County. No need to head to your bridal superstore to find your dress. The alternatives to traditional wedding dress shopping are plentiful and equally as memorable.
Go Vintage or Retro
If finding a diamond in the rough is your idea of a retail adventure, then thrift store shopping may be right for your walk down the aisle. You can find vintage or retro looks at a fraction of the cost of the traditional wedding dress. Remember all those designer gowns Carrie Bradshaw tried on and she ended up in a vintage suit? Sometimes beauty comes in unexpected places.
Get Creative With Your Wedding Attire
If a less traditional silhouette is how you envision yourself saying your "I dos" your wedding day inspiration may be as simple as re-creating a look you saw in a favorite fashion magazine. A statement blouse and dramatic skirt can be very bridal. Also, if you are a lover of designer fashion, instead of spending thousands on a traditional dress, opt for your favorite designer in white. Your budget will determine what you choose – from a simple slip dress from Zara to a stunning white Gucci suit. Since they are not actual wedding gowns, you will be able wear these classic pieces on other special occasions and relive the magic of your wedding day.
Consider Something Less Formal
If your day is a less formal, simple, and sweet setting like many of the wedding venues near Bucks County, then consider a look that matches your atmosphere. A simple sundress might just compliment your venue and decor perfectly. This could be found at any department store or unique boutique. A great number of stores offer bridal lines that are less traditional and more accessible. Most often you can peruse them online and find the just what you're looking for at a fraction of the cost.
Consider Renting Your Wedding Dress
Finally, why not rent your dress? Online outlets like Rent the Runway provide name brand designer looks for a small fee in comparison to actually purchasing the same look. A wide variety of styles and sizes can be yours. From white to colored frocks, you can achieve your one of a kind bridal look while saving dollars, and closet storage space after the big day. Try on several looks and reserve your dress. Then, return it after your nuptials. It couldn't be more simple!
Shopping for a wedding dress has never been better. And finding the perfect dress to match one of the many wedding venues near Bucks County doesn't have to be stressful. With all the alternatives to traditional wedding dress shopping available, there are an infinite number of possibilities for every single unique bride.