Tips for a Festive Christmas Wedding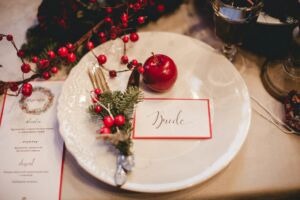 Christmas is no longer just the season of giving. 
It's also the season for giving your heart to another. 
In recent years, more and more couples are choosing wedding dates that fall during the holiday season. And for good reason as many out-of-state relatives and friends typically visit their hometowns to celebrate the season. Now, they can celebrate your special day, too! 
If you're planning a wedding for the upcoming holiday season, we're here to help!
Not only is our venue the perfect place to celebrate, but our expert event staff has put together a list of wonderful Christmas wedding ideas for invitations, decorations and party favors! 
Christmas Wedding Idea #1: Festively Fun Invitations 
The first step in capturing the spirit of the season – and encouraging your guests to attend your Christmastime wedding – is to send fantastically festive invitations!  
Build excitement for your wedding with invitations that must be unwrapped like a Christmas present. 
For something a bit more subtle, choose designs that incorporate holly, berries and wreaths into their artwork. 
Or go full-blown festive and let Santa annonce your upcoming nuptials!  
Rather than picking standard-issue invitations from a chainstore, you can discover unique  Christmas wedding invitations at Etsy and Pinterest. 
Christmas Wedding Idea #2: Delightful Decorations 
One of the best parts about Christmas is seeing all the wonderful decorations adorning homes, front yards, businesses and local attractions! 
Now you can add your wedding to the list of holiday decoration destinations!  
If you're embracing the extravagant side of the season, decorate your reception hall to look like Santa's workshop complete with elves and reindeer, a traditional Christmas homestead with trees and gifts, or a winter wonderland filled with snowflakes dangling from the ceiling, igloo photo stations and snow-covered trees. 
Or highlight the subtle side of the season with hints of lush greenery in the form of wreaths adorned and small real or artificial Christmas trees strung with simple white twinkle lights. 
Christmas Wedding Idea #3: Perfect Party Favors 
Christmas isn't complete without presents. And weddings aren't complete without favors for your guests! 
When your Christmas wedding festivities wind down, be sure to thank your guests and wish them and theirs a happy holiday with a unique favor. 
Gifting each guest with a mini-wreath or an ornament customized with your wedding details are great favors that can be part of their future holiday celebrations.  
They'll think of you and your perfect day every time they trim their tree or decorate their door! 
Host Your Christmas Wedding At PineCrest 
The above recommendations are just a small sample of the many great Christmas wedding ideas you can include in your special day! 
We hope you'll feel inspired by this list and create your own unique ideas for invitations, decorations and guest favors! 
If you're still searching for the perfect place to host your Christmas wedding, look no further than PineCrest Country Club. 
Our various event spaces are ideal for hosting intimate affairs and extravagant parties! 
Plus, our term of event experts are ready to help you customize your menus, define your seating arrangements and recommend local photographers, DJs and bands!  
To learn how we can make your Christmas wedding a more memorable event, please contact us today!