Elegant Color Palettes For Your Fall Wedding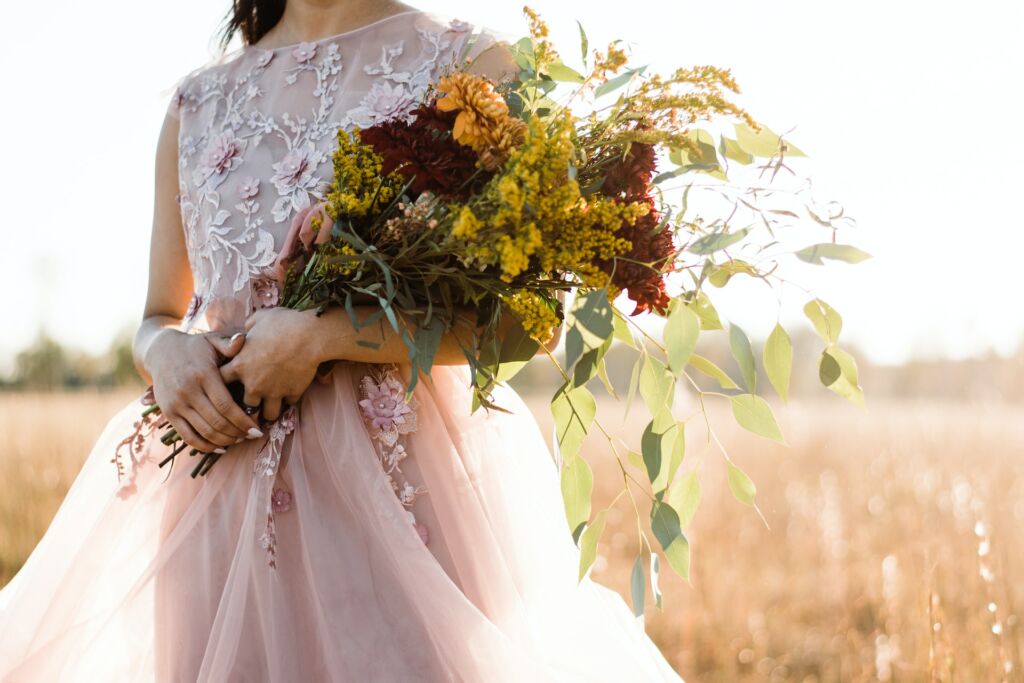 When you're planning your fall wedding there are so many decisions you have to make. This includes choosing the appropriate color palette. 
While some folks may consider the color palette less important when compared to picking a date and finding the perfect venue, the color palette is a key to the success of your event. 
It not only sets the style for the entire wedding party, it also adds to the enjoyment of the event by creating a welcoming atmosphere for all of your guests. 
If finding the perfect fall wedding color palette is a bit of a challenge, let us help you by offering a few elegant ideas. 
Fall Wedding Color Palette #1: Natural Colors 
For instant inspiration, it's always a good idea to look at the world around you!
Nature offers us an amazing color palette. From subtle shades to deep colors, there is a lot to mine from Mother Nature. 
Some of the most popular natural colors for fall take their inspiration from elements associated with the season. 
Pairing a dusky pumpkin orange with a more subtle sage green is a perfect palette for a fall wedding. These natural elements work together to create the perfect seasonal vibe. 
Plus they compliment each other across every aspect of the wedding, including the invitations, the wedding party's attire, the floral arrangements, the decor and even the party favors.   
Fall Wedding Color Palette #2: Classic Pairings 
Sometimes the best color palettes are the most traditional. 
Classic pairings of navy and gold add elegance to everything from the bride's gown to the place settings. 
Black offset by a contrasting pop of color creates a visually pleasing palette while laying the foundation for a more refined atmosphere. 
For a more neutral look, pairing champagne with hints of ivory creates a dazzling display that captures the joy and spirit of your special occasion. 
Fall Wedding Color Palette #3: Go Bold 
Perhaps the more natural and traditional palettes don't appeal to your sense of individuality and belief in blazing your own trails. 
If so, you may want to choose a more bold color palette for your fall wedding. 
If you're looking for a spectacular display of color, making marigold the focal point of your color palette is ideal. Bright, fun and festive, you can tamper its tone a little by adding a subtle undercurrent of gray to the mix. 
For a deeper shade of bold, pairing purple with burgundy and black exemplifies elegance that catches the eye without distracting the stars of the event. 
Host Fall Wedding At PineCrest 
Feel inspired? 
We hope so! 
Just remember, these are just a few of the many fantastic fall wedding color palette combinations that you can choose from. However, we hope these suggestions bring you one step closer to finding the colors that most appeal to you. 
We know that planning a wedding is difficult at times. That's why PineCrest Country Club wants to make things easier for you! 
Our elegant and affordable venue and menu options are accommodating for any size party and budget. Plus, our team will work with you to ensure that every part of your special day meets your expectations! 
Contact us today to learn more about our various indoor and outdoor rental spaces, menu options and more!