Golf-Themed Wedding Ideas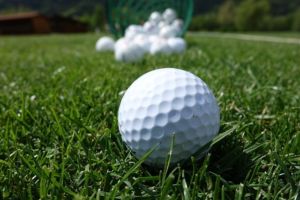 Weddings are a time to celebrate love—and all that makes the couple's love unique! That often means couples choose a special theme to thread together all of the elements of their wedding and to tell their love story. If that story includes a shared love of the sport of golf, plan a golf-themed wedding—from proposal to ceremony—at PineCrest!
Our 18-hole course, designed by a master architect, is the perfect place to pop the question. Pack the ring and pick the perfect spot along our rolling fairways, surrounded by sparkling ponds and lush landscapes, to take your next step as a couple. Then, get planning for your golf-themed wedding!
There are plenty of ways to incorporate your passion for golf into your event, such as:
1. Table plan
A wedding theme is often front and center in seating arrangements. For a golf-themed wedding, display your table plan on astroturf, with guests' names and tables written on golf balls or escort cards displayed on golf tees.
2. Centerpieces
The theme can be carried throughout the décor, including at each table. Use green tablecloths and add a runner made of astroturf, while you can make your centerpieces match: large glass vases filled with flowers and golf balls and topped with a miniature golf club or flag with the table number on it.
3. Wedding cake
No wedding theme is complete without incorporating the wedding cake! Work with the baker to design a cake that embraces your golf-themed wedding: such as green icing and fondant flags, with a topper modeled after you and your sweetheart (in your best golf attire, of course!) or carrying a golf-themed quote, such as "Fore ever Yours."
4. Favors
There are lots of ways to help your guests remember all the fun they had at your golf-themed wedding! If you go the route of sweet treats, give your guests chocolate golf balls wrapped up in golf-themed bags. Make it personal by adding your names and the date to a golf ball or tee that your guests can either use or display at home. If you want to gift them something practical, consider a wine stopper with a golf ball on top, or a keychain bottle opener shaped like a golf club (of course, personalized with your wedding info!).
And what better place to celebrate your passion for golf than with a wedding held right on a golf course at PineCrest?  Contact us online or call 215-918-8414 to learn more and review our availability.