3 Pennsylvania Honeymoon Ideas That Require Little Travel During COVID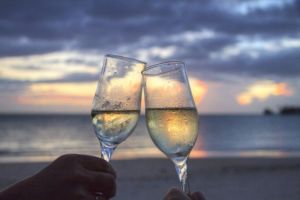 The current pandemic has turned plans upside down, but it hasn't stopped people from celebrating love! You may have had to adjust what your original vision was for your wedding and honeymoon but that doesn't mean you can't still enjoy basking in your union. Taking a honeymoon in Pennsylvania, a little closer to home, might be a better bet for the foreseeable future. This way you can stay safe, enjoy each other, and even plan a more extravagant getaway for the future! Here are some spots within driving distance that are memorable and romantic.
1. Pocono Mountains
No matter what time of year you're looking to get away, the Pocono Mountains are a welcome retreat. From history to nature, to thrilling activities, there are lots of things to enjoy just about 90 minutes from Montgomery County. The Poconos are known as a place for rest and relaxation. As early as the 1900s, citizens and visitors patronized area resorts for a bit of reprieve. Other than being so close to home, perhaps one of the best things about the Poconos is that you can tailor your experience to fit your desires. If you want to hole up in a cabin and sip champagne in a hot tub, you can! If you'd rather hit the trails for some stunning views, you can do that, too! Rather just indulge in some shopping? There are outlets for that! Whatever you're into, you can get into it in the Pocono Mountains.
2. Cape May
The historic Victorian charm of Cape May is sure to make for a memorable honeymoon. This quaint beach town is known for its stunning Victorian homes and resorts dating back to the 18th century. Today, you'll find a mix of modern and old-world as you stroll the boardwalk, relax on the beach, and even take an architecture tour by horse-drawn carriage. Stay in one of the city's historic resorts, or find the perfect Airbnb for your home base. From there, spend time soaking in the sun or in the colder months, enjoy the city's variety of holiday happenings. At under 2.5 hours from Montgomery County, you can make the trip down and enjoy the scenery along the way!
3. Pittsburgh
While this destination might be a little further from home, it's well within driving distance. Some call Pittsburgh the perfect city because it's a unique blend of historic, modern, small, and big all at once! From fine dining to sporting events to outdoor adventure, the Steel City really has it all. Whether you're looking to learn some history or simply enjoy the sports atmosphere (no matter what time of year!), you're in for a treat. Because the city is "wrapped in rivers," you can get out on the water for some incredible views. Pittsburgh, and the surrounding area, is also home to several parks with trails to meet any fitness level. And don't forget about the Duquense Incline where you can rise high above the city for a spectacular view. You can get from Montgomery County to Pittsburgh in about five hours, but the journey is worth it!
A honeymoon in Pennsylvania, or nearby, might not have been in your original plans, but luckily, there are lots of places that you can go for a quick and safe getaway with the one you love! Contact PineCrest to take a tour of our Montgomery County wedding venue or call us at 215-855-4113 to speak to an events coordinator!